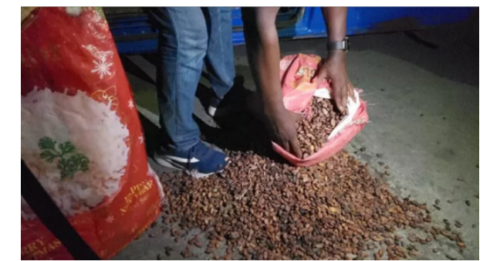 The Aflao division of the National Intelligence Bureau (NIB) has foiled an attempted cocoa smuggling operation at the Aflao border en route to Togo. On Monday, March 13th at around 7 PM, the NIB received a tip-off that some individuals were transporting cocoa beans from Osinase in the Eastern Region through Aflao to neighboring Togo.
The NIB intercepted a truck with registration number GX 8579 22 at the Aflao-Togo border, and upon a search, 275 bags of dried cocoa beans were discovered. The suspects, the truck's owner, Ebenezer Tetteh (35), and the driver, Francis Ewuah (35), have been remanded in police custody pending investigations.
Smuggling of cocoa through unapproved routes is prevalent along the Ghana-Togo frontiers due to the porous nature of the borders. Charles Amenyaglo, the Director in Charge of Special Services of the Ghana COCOBOD, praised the Aflao NIB command for their vigilance that led to the arrest of the suspects. He also urged the public to be vigilant and report any suspicious activities to help security agencies to arrest individuals who smuggle cocoa into Togo through illegal routes.
The impounded truck remains in police custody, and the suspects are scheduled for further investigations after appearing in court.