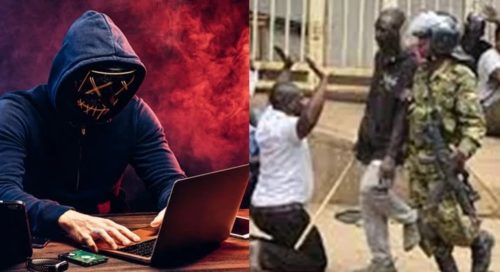 A cyber fraudster has hired no fewer than five soldiers to search for a Mallam who scammed him while he was seeking special prayers to assist him in his fraudulent activities.
The Mallam's brother simply identified as Hamzat, the soldiers stormed his block factory and seized his Toyota RAV 4 vehicle because they couldn't find his brother.
According to Hamzat, who spoke to The Punch, the army personnel, numbering up to five, arrived at his factory in Bankole Estate, Magboro, Obafemi Owode Local Government Area of Ogun State and began searching for his younger brother.
He said that the incident started after his brother asked Sulaimon for special prayers on behalf of an unnamed suspected cyber fraudster who is the brother of his fiancée.
He added that once the prayer was successful, his girlfriend's brother requested additional special prayers, so Sulaimon in Lagos' Agege neighbourhood referred him to another unnamed Islamic cleric.
"After my brother introduced him to another Alfa for special prayer, maybe he was duped (or he didn't get the expected returns after payment), I don't know. My brother also said he did not know what transpired between the boy and the other Alfa.
"On Tuesday, I was called by someone that some people were at my block factory and they wanted to buy blocks. So I rushed down. I told the person the price of my blocks. In the course of that, I just saw some soldiers coming into the estate. They came to me and said they wanted to see me. I asked them what happened, but they started grabbing me.
"When I looked into their car, I saw the guy I introduced to my brother and his sister, who is my girlfriend. Then the soldiers said I should follow them. They said they would drive my car with them, but I refused, I said I couldn't give them my car key but I would drive along with them since I did not steal or commit any crime," Hamzat is quoted to have narrated.
He added that the soldiers took him to their barracks, collected N10,000 from him and seized his car. He said one of the soldiers has since been calling him to ask about his brother who is believed to be on the run.
Meanwhile, Lt Col Ayeni Olabisi, a spokesman for the 81st Division of the Nigerian Army, agreed to look into the matter, correcting.com reports.