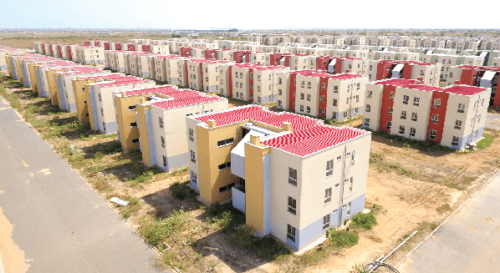 An Accra High Court has granted counsel for former chief director of the Ministry of Water Resources, Works and Housing, Godwin Edudzi Tameklo permission to represent his client on medical grounds after taking his pleas in connection with charges relating to causing financial loss to the state in the $200million Saglemi Housing project scandal.
After going against medical advice, Alhaji Ziblim Yakubu appeared before the high court in a wheel chair for his plea to be taken.
Earlier, presiding judge Ernest Owusu-Dapaa had ordered the former Chief director of the Water, Works and Housing ministry to appear in court in a 48-hour ultimatum in order for the proceedings to continue since pleas of four others, including Alhaji Collins Dauda had already been taken.
He had been absent consistently due to ill-health and attempts to get his plea to be taken via a live video feed at the Tamale High Court had proven futile due to lack of facilities.
Alhaji Ziblim Yakubu who is the third accused in the case pleaded not guilty to all 43 counts of causing financial loss to the state when the charges were read to him.
Citing Articles 14 and 19 of the constitution lead counsel for Alhaji Ziblim, Edudzi Tameklo prayed the court to allow his client to be absent on subsequent sittings since moving around would be a challenge to his health per his medical report.
But Principal State Attorney, Hilda Craig in a U-Turn, argued that the gravity of the charges against the accused person disallowed him from not being present in court.
She had earlier told the court that the accused could be represented by his counsel at his subsequent sittings if he could not be present.
"We just want to refer the court to section 70 of Act 30. He's(Alhaji Ziblim) been charged with a felony and therefore can't dispense his lawyer to be present for him. He should be present except when he has to go to the hospital," she told the court.
After hearing arguments from both sides, justice Ernest Owusu-Dapaa asked Alhaji Zibilm Yakubu if he would want his lawyer to stand in for him so the trial could proceed without him, to which he responded in the affirmative.
"I will allow my lawyer to stand in for me during the trial so the trial can proceed without me," Alhaji Ziblim noted.
The case has since been adjourned to June 12.