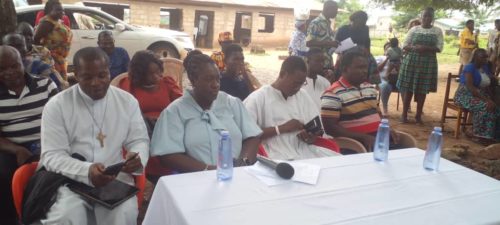 Papase Devine Mercy R/C Basic School calls for stakeholders to help and improve the development in the school this happened during the speech and prize giving day in the school.
In one-on-one interview with the Reverend Father Sylvester Segbawu(the local manager of Divine Mercy R/C Basic School in Adjen Kotoku Papase Accra He stated that,thier motivation is our Lord Jesus Christ who has giving us the command in Mathew 28:18-20 he says go and teach all the issues so we are teaching the children to be discipline, dedicated and they should be studious morally.
The partnership between the government and the church because the government is paying the salaries of the teachers and so as it is now the church doesn't have the 100% control over the school and if you go to class six it's so bad beacause one class alone we had about eighty student three in a desk and so we are appealing to the government to come and support us so that there will be sanitary in the various classrooms.
Reverend Father Sylvester Segbawu also urge the various cement companies such as GHACEM, Gyata cement and others to come to their aid and support them to fencing the school and some other developmental projects in the school.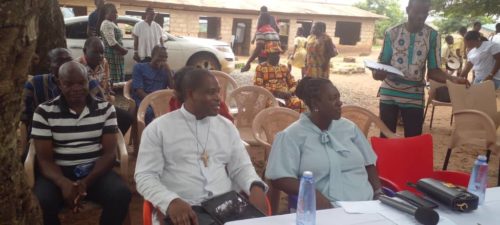 Mr. Daniel Kofi Amfoh(The P.T.A Chairman) also said it in an interview with the General manager of Gye Nyame Media Network that the purpose of being doing this speech and prize giving day in the school is we have seen that some of the teachers and some students also in the school has improved a lot that why we planned to to do this program to start and raised fund to support and complete our school fence wall so that it will guide and prevent the students in there for instance just two weeks ago the students and the teachers are here in class and mad man enters the classroom so you can imagine if we were having fence wall how can such person entered their classroom.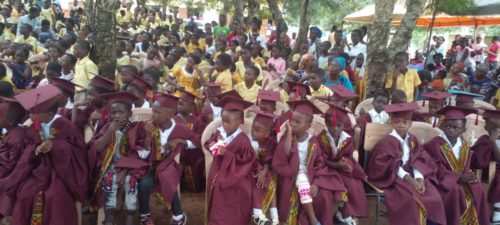 Again he took the opportunity to appealed to the parents for not putting their eye on government only so the parents should stop buying heavy clothes to wear and turn their eye also to invest in their children education. The parents should also try and provide their children some petty petty things like biscuits, pencil etc on their own.
Story by Charles Mensah Nyamedi(Africa 1)