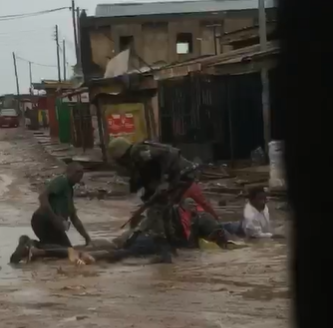 Soldiers have brutalized residents of Ashaiman as they hit innocent civilians with sticks and other weapons.
According to reports, the incident started Tuesday, March 7, 2023 dawn 3am at Taifa in Ashiaman.
This comes after a 22-year-old soldier with the Ghana Armed Forces (GAF) band in Sunyani in the Bono Region was killed at Taifa, a suburb of Ashaiman.
He was stabbed severally by unknown attackers Saturday dawn.
The soldier, according to sources, was returning from his girlfriend's house in Taifa and heading towards his residence at Zongo-Laka in Ashaiman when the unfortunate incident occurred.
Soldiers believed to have come to Michel and Burma Camp stormed Taifa where the incident happened and started brutalizing residents.
Speaking on the Morning Starr with Francis Abban, the MP for Ashiaman, Ernest Henry Norgbey, said the situation has created unofficial curfews in the area.
"Just this dawn around 3am I had a call that the military men had invaded the community, brutalizing people. Preventing people from coming out of their homes to even go to work which is an unfortunate incident. I will condemn the killing of the young soldier to the latter but that does not warrant the military guys to take the law into their own hands to brutalize innocent people. Probably the person who might have done this killing may not even be in the community and now innocent people are suffering because of that," Mr. Norgbey stated.
He continued: "What they are doing is what when they meet you, young or old, woman or man you would have to receive some beatings. The whole thing feels like an informal curfew so they are preventing you from coming out of your house and going about your daily duties. So, they see you and they have to chase you back to your house and when you play stubborn, they will have to give you some slaps which is unfortunate."
The lawmaker has assured residents that he together with the Deputy Defense Minister are putting in place efforts to make the military men leave the community.
He also admonished anybody making his way to Ashaiman to hold on so as not fall into the unfortunate situation.
"Everyone should remain calm, all will be over soon. We are making emphatic efforts to make the soldiers leave the scene. They should not take the laws into their own hands. Whatever they are asked to do they should do it and remain calm. Until we do the needful, we are making efforts to make sure they leave the scene. Probably they will have to do that for mother Ghana and for the innocent citizens who have to go about their daily duties," Mr. Norgbey explained.
Source: Starrfm.com