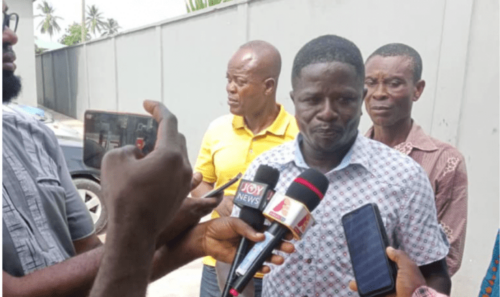 Members of Mankata family of Panpanso in the Apedwa Traditional Area of the Eastern Region have cautioned William Agyekum Acquah Asante of the Oyoko Royal family of Odumase to retract all allegations he has levelled against the Deputy Ambassador to China, Madam Akua Afriyie over the purchase and ownership of portions of land at Panpanso Krokese in the Eastern Region.
The family led by the linguist, Okyeame Otibu of Panpanso Krokese at a media briefing on Monday indicated strongly that the Deputy Ambassador to China acquired the land genuinely from the allodial owners, hence all allegations that she had acquired the land illegally were false.According to him, Mr Kofi Asante Agyekum Acquah and his elders of Nana Amon Kwame and Kwasi Amoani Oyoko Royal families are trying to attack the Deputy Ambassador for no reason.
Okyeame Otibu averred that all the tracks of land located at Odumase-Panpanso belong to the Mankata family and that the Oyoko Royal family has never owned a land in the area.
He pointed out that all the people laying claim to lands in the area are "criminals."
He stressed that Mr Acquah and his people have no land within the enclave of Odumase-Panpanso Mankata.
According to him, the land in possession of Madam Akua Afriyie was sold to her by Mankata hence it would use all legitimate means to prevent the land from being taken away from the woman.
According to him, the family has all documents covering the lands with copies lodged with the Lands Commission and for that matter, the Mankata Family has the legitimate right to sell the land.
" I think Mr Acquah took money from someone and promised to sell the land to him so such people should take their money back from Acquah since he didn't have any land at Panpanso".
"Mr Kofi Asante Agyekum Acquah himself on several occasions took people to Mankata for documents covering lands they have acquired and that they have all evidence pointing to the fact that Mr Kofi Asante Agyekum Acquah is trying to claim portions of land which do not belong to their family but Mankata family.
We went to Court on several occasions and it was clear that the land here belong to us. We never begged land from them. We gave them lands to settle and to set records straight, the lands belong to us that is why we gave them portions. Mankata family have the authority to sell the lands and so whoever we sold land to is genuine."
Nobody has the power to stand against Madam Akua Afriyie because she bought the land from us; from the Mankata family". Okyeame Otibu stated.
Meanwhile, Mr Kofi Asante Agyekum Acquah said he is not ready to render any apology to the Deputy Ambassador to China.
"I will never retract and apologise today or tomorrow," he stressed