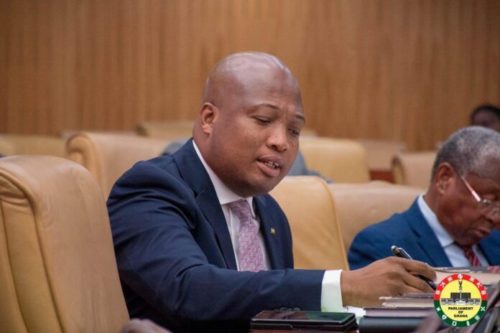 North Tongu Member of Parliament Samuel Okudzeto Ablakwa has said that ECOWAS should not declare war on Niger to restore the country to democratic rule.
He rather wants dialogue and a diplomatic approach to be adopted in handling the situation.
Mr Ablakwa asked President Nana Addo Dankwa Akufo-Addo to submit to Parliament his policy on Niger for a thorough debate.
In a tweet, Mr Ablakwa said "President Akufo-Addo must immediately stop his mobilization of Ghanaian soldiers for an ECOWAS war in Niger. He must submit his Niger Policy to Parliament for scrutiny. War & Bloodshed cannot be the solution; Diplomacy & Constructive Dialogue is. Africa needs a new leadership."
The Authority of Heads of State and Governments of the Economic Community of West African States (ECOWAS) convened an Extraordinary Session in Abuja, Nigeria on 10th August 2023, under the chairmanship of H.E. Bola Ahmed Tinubu, President of the Federal Republic of Nigeria and Chair of the ECOWAS Authority.
The Extraordinary Summit was convened as a sequel to the recent one held on 30th July 2023, following the illegal detention of President Mohamed Bazoum by members of the Presidential Guard in the Republic of Niger on 26th July 2023.
During the meeting, ECOWAS reiterated its condemnation of the "attempted coup d'état and the continued illegal detention of President Mohamed BAZOUM, his family, and members of his government."
The body further condemned the condition in which President Bazoum is being detained and hold the CNSP fully and solely responsible for the safety, security and physical integrity of President Bazoum and members of his family and Government.
In a communique issued after the meeting, ECOWAS said they uphold "all measures and principles agreed upon by extraordinary summit held on Niger on 30th July 2023."
They have decided to "Enforce all measures, in particular, border closure, and strict travel bans and asset freeze on all persons, or groups of individuals whose actions hinder all peaceful efforts aimed at ensuring the smooth and complete restoration of constitutional order;
"Warn member states who, by their action directly or indirectly, hinder the peaceful resolution of the crisis in Niger about the consequences for their action before the Community; Call on the African Union to endorse all the decisions taken by ECOWAS on the situation in Niger;
"Further call on all partner countries and institutions, including the United Nations, to support ECOWAS in its efforts to ensure a quick restoration of constitutional order, in conformity with its normative instruments;Direct the President of the Commission to monitor the implementation of the sanctions ;
"Direct the Committee of Chiefs of Defence Staff to immediately activate the ECOWAS Standby Force with all its elements;
"Order the deployment of the ECOWAS Standby Force to restore constitutional order in the Republic of Niger; Underscore its continued commitment to the restoration of constitutional order through peaceful means."