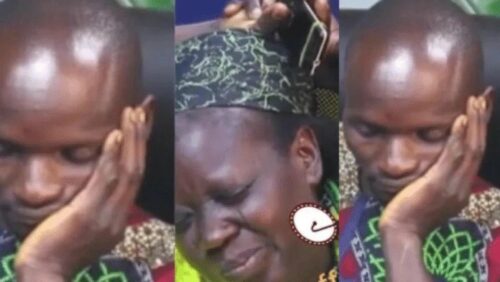 A heartbroken husband jas narrated how he caught his wife in a compromising situation with their pastor in his one-bedroom rented apartment.
The man simply identified as Oluwasina Adeshina made this known on a family affairs radio programme –"Kokoro Alate" on Agidigbo 88.7fm in Ibadan.
Oluwasina noted that the pastor is the rightful owner of 4 out of the 6 children he has with his wife, adding that he has sent her packing on many occasions but she has refused to leave his house.
Narrating her own side of the ordeal, the woman, Alimat Adeshina, noted that she gave birth to twins twice and has a total of 6 children.
And as claimed by her, none of the children belongs to the pastor but rather to her husband.
The then pastor of their church, Pastor Adeyele noted that the family joined his church in 2013 and confessed that he had affairs with her in 2014 and the fact that the husband of the woman is good to him, he had to admit to his sins and apologise for his misdeeds.
"They gave birth to twins in 2016, and I was the one who named the children. They stopped coming to my church since around 2018 because a church was established close to them.
"I received a call in July 2022 and to my surprise, it was her husband who called telling me to come take my wife and my children.
My pastor was sleeping with my wife while I was asleep, her moaning woke me – Husband cries on live radio
"I called our landlord chairman and invited the husband, he noted that his wife is the one fraustrating him and they've sorted the grudges. He added that he married another wife last year and since she's aware, she's been making life a hell for him.
In January, I got a call for an invitation from Akobo Police Station. I met the woman (Alimat) there saying that her husband had sent her parking with 6 children asking for how I could assist".
"I received another call from Agidigbo Radio concerning this case again that the husband claimed that I am the father of 5 of his 6 children," the accused pastor narrated.
Narrating his own side of the story, Oluwashina (husband) noted that his family started attending the pastor's church in 2014 after his mother's death.
"The case started when the pastor told me my wife reported that I don't dress well. I accused them of extramarital affairs then and I was later told by the pastor that my wife will get pregnant and we must not abort the child.
The pastor told us to begin a vigil together and he comes around to sleep on my bed with my wife while I sleep on the floor. The first time he came, I told my wife to come with me but insisted she insisted on sleeping beside the pastor.
"I caught them moaning one day while they thought I was asleep, they were having a conversation and when I confronted the pastor, he accepted but told me to save his image due to his pastoral ministry.
"He later came to my shop telling me to ensure no other person hears about the case if I want to remain alive that he would come back for his children when they clock 15.
"My wife took my case to her family house accusing me of not taking care of the children,"
Oluwasina narrated.