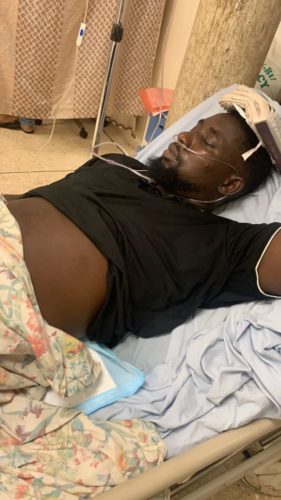 The military officers allegedly began assaulting both spectators and players of the opposing team and the victim was not equally spared.
He had his head struck by one of the military officers only identified as Muller and received subsequent beatings until he passed out.
Daniel was rushed to a health facility in Nyanyano for initial treatment and later transferred to the Korle-Bu Teaching Hospital in Accra where he's currently receiving treatment.
According to the diagnosis made by medical experts, Daniel has suffered a tumor in the brain and has a clot of blood stuck in his head.
He has become completely paralyzed and suffering partial memory loss.
Relatives are worried about the seeming hesitation of investigators at the Gomoa Nyanyano Police Station where an official complaint was laid and are therefore calling on relevant state agencies to intervene.
Ghana News Express is your news, politics, business, sports, entertainment, and lifestyle website. We provide you with the latest news and content, straight from Ghana and all over the globe.