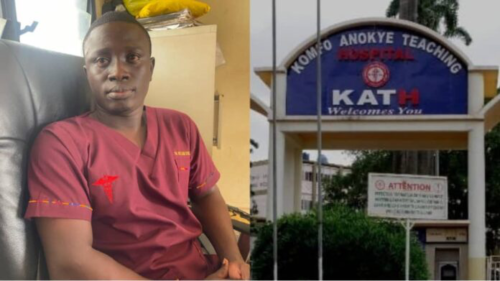 A 29-year-old man known as William Cyril Cohen has been arrested by security personnel of the Komfo Anokye Teaching Hospital (KATH) in Kumasi for posing as a medical practitioner.
Mr. Cyril Cohen was seen lurking between the Chest Clinic and Accident and Emergency Block Monday morning, September 4, 2023, when doctors were supposed to be on the wards or in the consulting rooms..
The Director of Nursing today upon seeing him asked if he was a doctor or nurse and he answered yes to the latter. But when the director probed further, Mr. Cohen became jittery and tried to run away but was caught by the security men at the scene.
He confirmed not being a doctor upon further interrogation by the hospital authorities.
He has been handed over to the Central Police Station in Kumasi for further investigation.