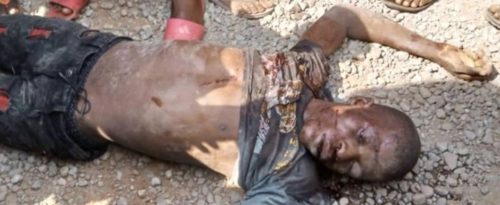 Some youth living at Soul Habour Academy area at Atekyem, suburb of Koforidua the Eastern regional capital subjected a suspected robber to severe beaten after he was caught red handed stealing a house .
The suspect was arrested Sunday morning after invading a house and pulling cutlass on a young girl to bring her parents monies and personal properties.
The girl who was alone in the house out of fear led the robber to the rooms where he started stealing mobile phones, and other items.
Luck eluded him when a passerby saw the suspect with cutlass in the house, and raised alarm.
The youth in the area scaled over the wall of the house with cutlass and machete to surround the house.
They arrested the suspect when he attempted to abscond with the stolen items including mobile phones .
The youth beat him to pulp before handing him over to the Central Police station.
Assembly member for Atekyem Electoral Area ,Valeria Bedjabeng said there have been increasing theft and burglary cases in the electoral area which same reported to the police to intensive patrols in the area.