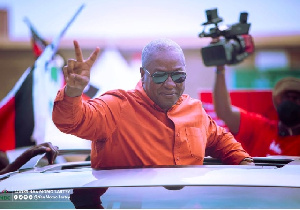 Aide to former President John Dramani Mahama, Joyce Bawah Mogtari has denied reports that the former president's convoy and campaign team has been involved in an accident.
In a disclaimer issued via her social media accounts, the former president's campaign spokesperson acknowledged that a regional team of the National Democratic Congress had been involved in an accident but maintained that it was not part of Mr Mahama's convoy.
"The John Mahama campaign team and convoy has not been involved in an accident. Neither has the campaign been called off or suspended. JM has just finished meeting branch and constituency executives of Yapei Kusawgu and on his way to Daboya. The evidence is on his SM platforms, on WoezorTV and it's SM handles.
"There was an accident involving a regional team that was traveling to the Yapei constituency, ahead of the JM campaign team convoy. John Mahama stopped to assist the accident victims, who have been transported to the hospital for treatment. We are unable to confirm the identities of those who were injured," he stated said.
Earlier report
In the early hours of Thursday evening, myjoyonline.com reported that some members of Mahama's convoy have been injured after they got involved in an accident in Tamale.
The accident according to the report occurred at Dartotili a suburb of the Northern Regional capital on Thursday May 11, 2023, and is said to have affected 3 persons who were travelling with former President John Dramani Mahama.
The National Democratic Congress (NDC) flagbearer is said to have been on his campaign tour of the Savannah Region when the incident occurred.
The victims the report noted include a TV3 Journalist, Christopher Amoako, the Savannah Regional Communications Officer of the NDC, R.A Jelil, and one other person identified as Samed.
According to the myjoyonline report, the team was returning from East and North Gonja Districts and heading towards Yapeo and Daoboya in the Central and North Gonja Districts but could not reach their destination.
The injured persons were said to be receiving treatment at the Tamale Teaching Hospital for medical attention.
The former President was captured beside the TV3 journalist who was on the floor.