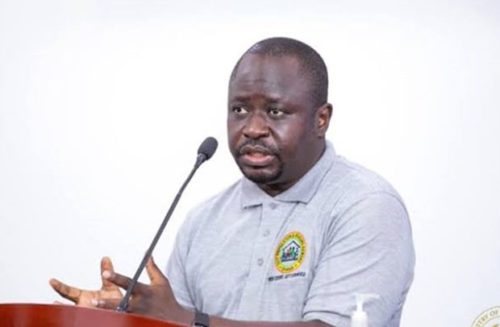 The country's year-on-year inflation has once again dropped to 41.2 per cent in April from the 45 per cent recorded in March 2023.
Data from the Ghana Statistical Service (GSS) indicated this is the fourth time inflation has dropped extending the disinflation process since January 2023.
The GSS in its latest figures revealed that both food inflation and non-food inflation dipped last month.
According to the figures, food inflation went down to 48.7 per cent in April 2023, from 50.8 per cent in March 2023, whilst non-food-inflation declined to 35.4 per cent in April 2023, from 40.6 per cent in March 2023.
Also, inflation for locally produced items stood at 38.2 per cent, whereas inflation for imported items was 43.1 per cent.
Five groups including Housing, Water, Electricity, Gas and Other Fuels (59.0%); Furnishing, Household Equipment and Routine Household Maintenance (56.3%); Food and Non-Alcoholic Beverages ((48.7%); Personal Care, Social Protections and Miscellaneous Goods and Services (48.5%) and Transport (42.5%) recorded inflation higher than the national average,
Also, eight food items recorded inflation higher than overall food inflation.
For food inflation, Tea and Related Products (82.3%); Cereals and Cereal Products (62.9%); Milk and Diary Products (61.8%); Fish and Other Sea Foods (58.3%); Sugar, Confectionary and Desserts (56.7%); Fruit and Vegetable Juices (55.2%); Oil and Fats (53.2%) and Water (49.6%) recorded year-on-year inflation higher than the overall food inflation.
The month-on-month inflation stood at 2.4 per cent in April 2023. Food and Alcoholic Beverage however recorded the highest inflation of 4.3 per cent, whilst non-food inflation was 0.7 per cent.
The Volta region continued to record the lowest inflation among the regions. It recorded 28.0 per cent year-on-year inflation in April 2023.
On the other hand, the Western North region registered the highest inflation of 64.0 per cent
Ghana's populous regions – Ashanti and Greater Accra recorded inflation of 31.3 per cent and 39.1 per cent respectively.
This slump in inflation could compel the Bank of Ghana to keep its policy rate unchanged at 29.5 per cent when the Monetary Policy Committee begins its 112th Meeting on May 17, 2023. However, the cost of credit still remains expensive as average lending rates hover around 35 per cent.