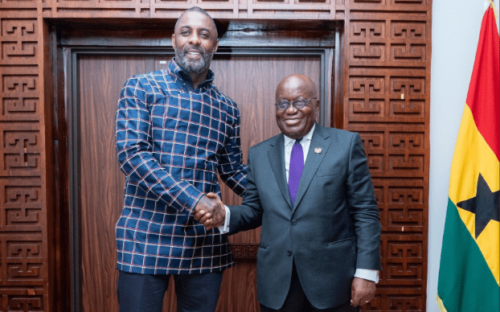 British actor Idrissa Akuna Elba visited his Ghanaian roots with a courtesy call and a promise to President Akufo-Addo to improve the film industry in the country, starting with his film, which he intends to bring to Ghana.
Under the Year of Return and Beyond the Return scheme, many diasporans, including international celebrities, have taken a keen interest in Ghana.
The latest celeb to set shop in Ghana is Idris Elba, who intends to set shoot in Ghana, help fine-tune film policies and set up a film school to honour his Ghanaian roots (Idris Elba was born to Sierra Leonean Creole man and a Ghanaian woman).
During his visit to Ghana, Idris Elba paid a courtesy call to the jubilee house, where he spoke to the president about his intentions for the motherland.
According to Idris Elba, a vibrant film industry begins at the policy level. He noted that countries like South Africa, Europe, Greece and Morocco have invested in their policies because they understand the value of the film industry in dollars.
Speaking about Ghana's film industry, Idris Elba praises the NFA for helping to facilitate his intended 'Ghanaian' film.
"The National Flim Authority has done the work. Put together a comprehensive plan to propel Ghana into the forefront. It needs to be robust. It needs to be competitive. We believe for sure, and I know you believe in your legacy that you want to leave behind, that Ghana should step up to start attracting those filmmakers.
"What i want to do is that I have a film that I'm directing, and I'm hoping to bring that film, or at least some of that film, to shoot it in Ghana. That film will be here in December. We start pre-production in August. Some of the films, in two or three weeks, will be in Ghana by December."
Idris Elba concluded that this initiative will show the world that Ghana is open for business!