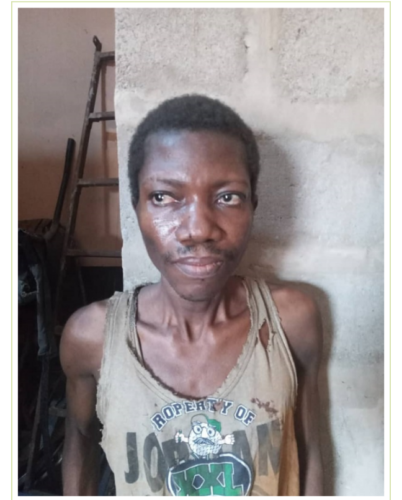 A supposedly mentally sick man who murdered his 78-year-old uncle with a machete has given a bizarre reason for committing the heinous crime.
Eric Narh, a 28-year-old unemployed man on Sunday, August 13, 2023, pounced on the deceased with a machete and inflicted deep wounds to his neck and arm, killing him on the spot.
Though eyewitnesses couldn't immediately attribute any reasons for Narh's actions, the suspect following his arrest by residents told the police during interrogations that he murdered the blind man because the victim insulted him.
A Somanya District Magistrate Court on Tuesday, August 15, 2023, remanded Eric Narh to prison custody.
He has been charged with murder contrary to section 46 of the Criminal Offences Act, 1960, (Act 29) as amended by para 4 of the NLCD 398, Act 1969.
Appearing before the Court, the Prosecutor, Detective Chief Inspector (D/C Inspt.) Daniel Apedo told the Court presided over by Michael Ocloo Esq that the complainant in the case is one Gabriel Kweku Narh, a 69-year-old farmer residing at Tesanya, a suburb of Nuaso in the Lower Manya Krobo Municipality of the Eastern Region.
Prosecution furthered that on Sunday, August 13, 2023, at about 9.00 am, the complainant, a brother of the deceased, received a phone call from one Christopher Tetteh who is a witness in the case that his elder brother, Kweku Emmanuel who is a 78-years-old blind man had been butchered by Narh, his nephew.
The complainant upon receiving the horrendous news, rushed to the home of the deceased where he found him lying in a pool of blood.
Gabriel Kweku Narh then reported the incident to the police at Nuaso who visited the scene and found Emmanuel dead, and the police upon examination detected the deep machete wounds on the victim's neck and left hand.
The body was then conveyed to the Atua Government Hospital and after being confirmed dead by the medical officer on duty, the body was deposited at the mortuary of the facility for preservation and autopsy.
Based on the findings, Narh was arrested and in his caution statement admitted to killing the deceased because he insulted him.
The machete used in committing the crime was also retrieved from the scene and is currently in the possession of the police for evidential purposes.
The suspect will reappear before the Court on September 12, 2023.