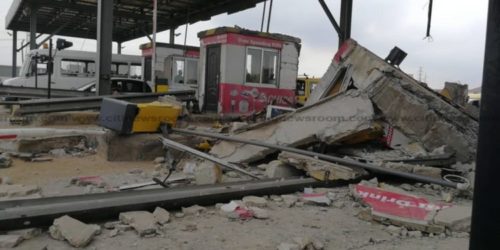 The Ranking Member on Parliament's Roads and Transport Committee and Minority Chief Whip, Governs Kwame Agbodza, says the government is to blame for the incidents of vehicles running into obsolete toll booths.
He argues that the government's decision to cancel the collection of road tolls was not well-thought-through.
The Ministry of Roads and Highways directed the immediate discontinuation of the collection of tolls on all public roads and bridges across the country in November 2021.
Some motorists have said that this has resulted in road crashes at toll booth spots, with the most recent one occurring on the Accra-Tema motorway.
Speaking to Citi News, Mr. Agbodza said the government should make the toll booths safe for motorists.
"They have also created danger on the motorways because there is no one there, no police. It is getting to the point where drivers are running into them and killing people. So, the recklessness of this government is in every sector."
"I am encouraging them to go back to the motorway and all other tollbooths to make them safe. They have gotten everything wrong with the motorway and sadly, their recklessness is leading to unnecessary loss of lives on the motorway and elsewhere, and they must take responsibility for it," he stated.