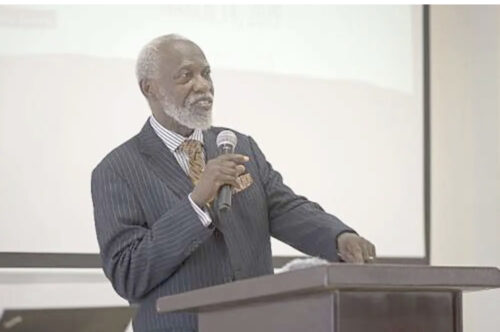 A former Rector of the Ghana Institue of Management and Public Administration (GIMPA) Professor Stephen Adei, has attributed the leadership problem in Ghana to the lack of proper leadership training institutions.
At the moment, he said, there is no proper leadership training institution in Ghana.The one that he tried to establish at GIMPA failed immediately he went on retirement.
Speaking on the Ghana Tonight show on TV3 Tuesday, April 4, the former Board Chair of the Ghana Revenue Authority (GRA) said the politicians have realized the corrupt nature of the average Ghanaian hence they are manipulating the system to their advantage.
Asked whether the leaders are the kind of people Ghanaians deserve or the process of electing the leaders is problematic, he answered "There is no doubt at all that we have moved as a country over the years whereby the process of electing leadership has been largely influenced by money and propaganda and sometimes deceit.
"But the question is, how did we get there? Initially, I think people were willing to give people the chance on their capabilities but over time the politicians have let the people down so much so that it has come to the point whereby the people say, let us get our best upfront.
"So the question is whether the leaders create the people or we get the leaders that e deserve."
He added "I think it is a symbiotic relationship. There is no doubt at all that we are getting the type of leadership that we are getting because the average Ghanaian is corrupt and therefore the politicians are very smart and they quickly learn how to manipulate the system.
"However, when there is a true leader, he has the capability of changing the scenario and leading the people out of their status quo because true leadership is a paradigm shift and therefore at the end of the day the blame falls on the quality of the people that we get."
He added "I think that at the end of the day, it is a demand and supply situation at this moment. One of the saddest things is that we don't have any proper leadership training institution. I tried it in GIMPA. When I was in GIMPA you won't believe that all three Parliaments which were elected and the cabinet came to GIMPA for orientation and training and of course, after me people thought that it was no longer necessary.
"So at this moment, there is no institution in Ghana which even has the modicum of training for those who are elected. I think that the supply side has been weak, the demand side has also been weak and it is getting better because people are getting enlightened."