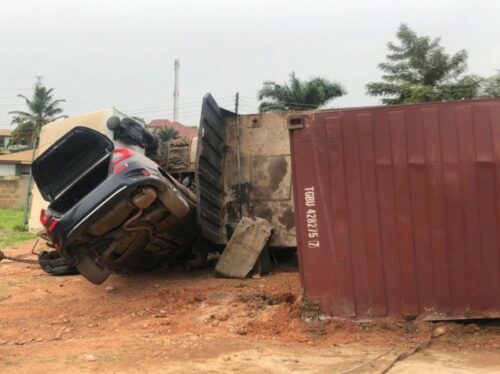 A trailer has run over three saloon cars at Sokoban in the Ashanti region, leaving one person dead.
The trailer with registration AS 9456 D lost control of its brake and ran over the cars.
According to eyewitnesses, the trailer which was carrying a 40-foot container, was coming from Sokoban on the Ahodwo-Trede road.
The deceased has identified as a male who was driving with his wife. Those who got injured including wife of the deceased are receiving treatment at the Asafo Agyei hospital.
The Assembly member of the Sokoban-Daaban area, Kojo Boateng blamed the accident to the slow pace of the road construction.
"It was dangerous. We are even lucky today is a holiday, it would have been worse. That is why we are saying the contractors should speed up the road construction. I don't think it would have been a problem if the dual road construction was completed," he said.