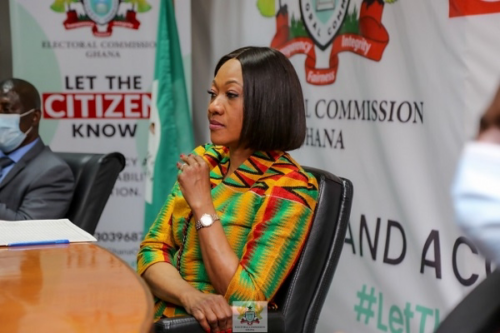 The Chairperson of the Electoral Commission (EC), Jean Mensah has clarified that the Ghana Card will not be used as a document for casting votes in the 2024 elections.
Addressing Parliament on Tuesday, the Mrs Mensah said the Ghana Card will only be used as the sole means of identification for the continuous registration exercise which the EC will embark on in all its regional and district offices accross the country.
"The use of Ghana Card will prevent foreigners and minors from our voter register…more especially, it will prevent unqualified persons from influencing our elections and have a say on who leads us…so we call on our honourable members to support our effort at getting foreigners to vote…," she said.
Mrs Mensah further said that the new Constitutional Instrument (C.I.) will end the guarantor system used in voter registration in Ghana.
The EC Chairperson said the guarantor system which was introduced in 1992 when Ghana has no means of indentification has not been the best and ought to be changed.
According to her, the system has helped in getting many foreigners to register for the voter ID card as it was difficult to tell the real intentions of guarantors.
"We believe that the elimination of the guarantor system will be a catelyst for having a credible voter register…," she told the house.