Residents of Ejura in the Ejura-Sekyedumase Municipality of the Ashanti Region say the Divisional Chief of Ejura Traditional Area, Barima Osei Hwedie II has done more than enough to satisfy their needs in his first eight years of leadership.
The residents have thus described the numerous developmental projects by Ejurahene and the traditional council as unparalleled.
The residents who were reminiscing about the first eight years of rule by Barimah Osei Hwedie II, said the chief has performed way beyond their expectations adding that they were amazed by the chief's quest to unite all people withing the Ejura enclave.
According to them, the enlisted achievements of Barima Osei Hwedie II since his enstoolment as the chief of Ejura in 2015 is worthy of acknowledgement as in less than eight years, he has an unbeatable records of achievement.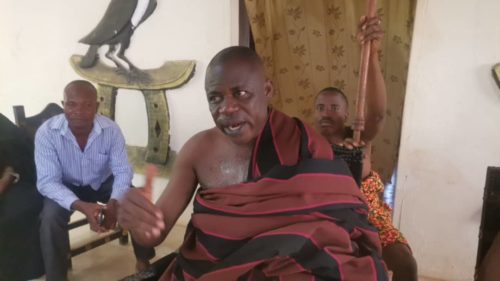 In an exclusive interview with OTEC News Jacob Agyenim Boateng on Saturday, June 10,2023, the residents recounted how the chief has huge impacted their living with landmark developments.
Peace and Unity in Ejura
Some residents who spoke to OTEC News lauded Ejurahene for his commitment to peace and unity in the area.
They noted that, Barima Osei Hwedie II has done very well to end fratricidal conflicts which used to be a bane to the development of Ejura.
They noted that, the leadership style of Ejurahene, has brought a massive sense of belongingness among all factions, including ethnic, social and political groups serving as a beacon of unity and progressive development in the area.
Infrastructure Development
Speaking on some of the tall list of development projects by the Ejura Traditional Area lead by Barimah Osei Hwedie II, the residents said the Ejura-Sekyedumase Municipality through the chief has a seven bedroom apartment for doctors working at the Ejura Government Hospital, released a 20 acre land for construction of a district hospital under the Agenda 111 project.
The chief again lead the construction of a wall around Ejura Government Hospital, provided boreholes to over ten communities, construction of s a six unit classroom block for Ejura Anglican basic school.
The chief in less than eight years has also constructed an ultra-modern Divisional Police Headquarters, donated over 600 acres of land to the Ghana Prisons Service, facilitating the construction of military base at Ejura by providing free land and houses to government, provision of a seven bedroom apartment for officials of the Ghana National Fire Service GNFS among others.
Barimah Osei Hwedie II has also paid an its still paying fees for many tertiary students while securing jobs for hundreds of youth in the municipality
While they couldn't list all the unprecedented works by the chief, the residents said all the projects mentioned are evidence based and are readily available in the communities ading that, whoever wishes to see can tour the community and see it for themselves