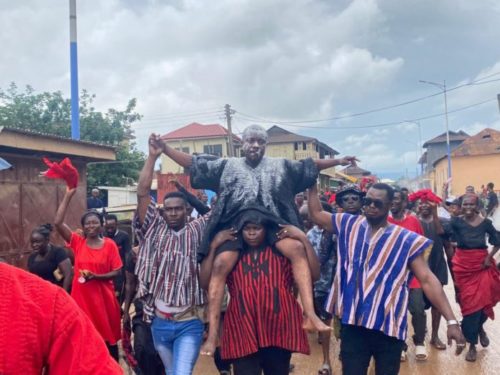 In a momentous event, Dr. Joseph Nana Awuah Parker, a respected figure in both the business and philanthropic realms, has officially assumed the role of chief in Akyem Sokode Dwaso within the Eastern Region.
This ceremonial installation was conducted by Okyeman Adontehene and Akyem Kukurantumi's Omanhene, Dasebre Boamah Darko, at the traditional setting of Okyeman Adontenhene Fie in Kukurantumi.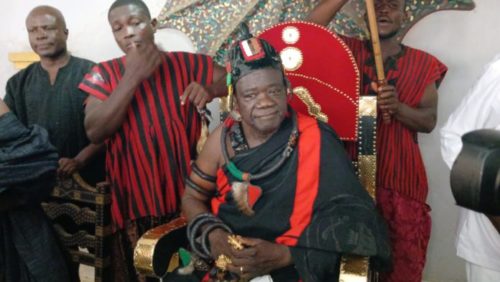 Okyeman Adontehene and Akyem Kukurantumi's Omanhene, Dasebre Boamah Darko
Dr Parker holds the esteemed title of Barimah of the Okyeman Adontehene, entrusted with the traditional authority over Sokode Dwaso and its neighboring localities.
In contrast to the tensions that have sometimes marred chieftaincy installations in various parts of Ghana recently, the residents of Sokode Dwaso and Kukurantumi were engulfed in an atmosphere of celebration and festivity.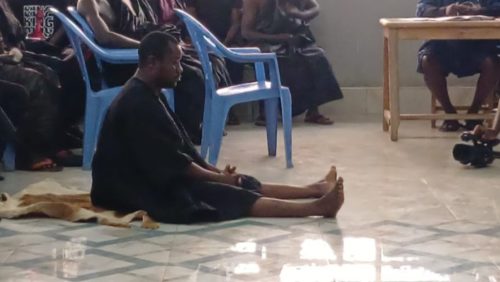 Barima Kwabena Awuah at Okyeman Adonten Fie during the installation
After the installation event on Saturday, August 19, 2023, an interdenominational church service took place in Sokode Dwaso the Sunday after.
During this service, Barimah Kwabena Awuah, as Dr. Parker is now known, expressed his gratitude to God for embarking on this new journey with the community.
He emphasized the significance of unity and communal support to propel development within the town.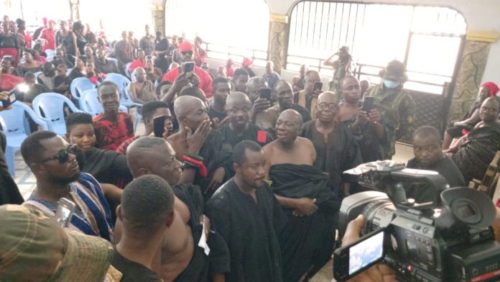 "Our pursuits will be anchored in the principles of development in all its facets," noted Barimah Kwabena Awuah. He further articulated, "Our responsibility is to foster an environment conducive to innovation, education, and economic progress."
Barimah Kwabena Awuah underscored the importance of ensuring that development doesn't come at the expense of unity. "Our collective strength lies in our capacity to transcend differences and collaborate harmoniously as a united force. Our diversity isn't a source of division; rather, it's a reservoir of strength."
As expected, the installation event was graced by many esteemed individuals, including Dr Parker's international partners, and numerous media personalities who joined the celebration.