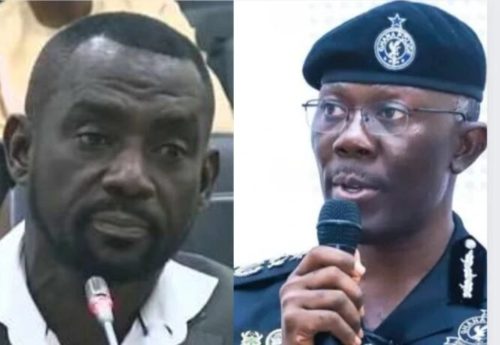 The Ghana Police Service's Director of Operations, COP George Alex Mensah, has raised concerns about the management of the Police Service by Inspector General of Police (IGP), Dr. George Akuffo Dampare. Apexnewsgh.com report
This revelation came to light during COP Mensah's appearance before a parliamentary committee investigating a leaked tape. The tape features senior police officials engaging in a conversation with Bugri Naabu, the former Northern regional chairman of the New Patriotic Party (NPP), discussing plans to remove the IGP. COP Mensah asserts that under the IGP's leadership, morale among police officers has declined.
"Dampare is not managing the Police Service well and the majority of police officers are not happy. You can call the police officers underground and they will tell you," COP Mensah said.
In a recent development, COP Mensah has made an admission of his political involvement without disclosing which political party he aligns with. This statement comes in light of a leaked tape where he can be heard suggesting that the IGP should be ousted to secure a victory for the NPP in the upcoming 2024 elections.
However, COP Mensah vehemently denies the authenticity of the tape, asserting that it has been manipulated and does not accurately portray his original conversation with former NPP Northern Regional Chairman, Bugri Naabu. COP Mensah expressed his inability to confirm various details on the tape during his appearance before the investigating committee. Furthermore, he firmly declared that there was no plot to remove the IGP, emphasizing that the circulating tape has been heavily edited.
During a conversation with Committee Chairman Samuel Atta Akyea, COP Mensah expressed his belief that the tape played today was edited. He clarified that he has not heard an unedited version of the tape as he currently sits here.
Furthermore, COP Mensah mentioned that there were several elements in the tape that he does not recall and numerous discussions with Bugri Naabu that were not included. He emphasized that some of these discussions were of a private nature, which he is unwilling to discuss publicly.
Insisted having a meeting Bugri Naabu "I had a meeting with Bugri Naabu but I don't remember having any plan to remove the IGP because I don't remove IGPs."
In contrast, Bugri Naabu's claims stand in direct opposition to those made by COP Mensah. Naabu not only affirmed the authenticity of the recording but also acknowledged that he had personally recorded it in his private office located in Osu. It was revealed that COP Mensah had sought Naabu's direct involvement in discussing the potential dismissal of Dampare from his position, citing concerns that Dampare's actions might impede the NPP's chances of winning the 2024 elections.