Copper Wire 'Thieves' Caged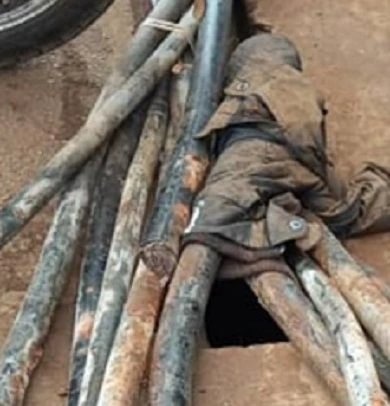 TWO SUSPECTED copper wire thieves have been apprehended at Maakro in the Suame Municipality, of the Ashanti Region.
The two suspects, who are all males, have since been identified by the Suame District Police as Jacob Dosoy and Danyan Paapa.
The duo, the police said, were nabbed in possession of 12 pieces of copper wires, which are suspected to belong to one of the telecommunication companies in the country around 3am on Tuesday, August 15, 2023.
One Owusu Richmond and Nana Rashid, both members of the Suame Municipal Task Force, suspected foul play when they saw the two men with the copper wires at that unholy hour.
The task force members therefore stopped and questioned Jacob and Danyan about the owner of the copper wires, but they (suspects) could not readily give any tangible answer.
Jacob and Danyan were therefore arrested instantly by the task force members, who later on handed them over to the Suame District Police for further action.
According to the Suame District Police, the two suspects have since been caged as investigations were still ongoing to help identify the owner of the copper wires for further action.
Source:dailyguidenetwork.com