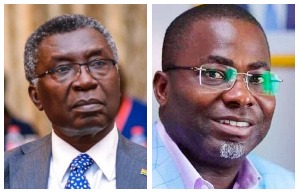 Charles Bissue, the former secretary of the Inter-Ministerial Committee on Illegal Mining (IMCIM) has accused Professor Frimpong Boateng, former minister of Environment, Science, Technology and Innovation, of not telling Ghanaians the truth about the missing 500 excavators.
He claims that Professor Frimpong Boateng is concealing the truth in an effort to clear his name from the illegal mining (galamsey) dilemma.
The former minister recently denied allegations that a state-seized 500 excavators vanished during his tenure in office.
According to the heart surgeon, the allegations were baseless and mere fabrications which were made against him to cause his removal from the Nana Addo Dankwa Akufo-Addo-led government.
Speaking in an exclusive interview on March 10, 2023, with GBC News he recounted how members of his own political party were sabotaging him internally, including persons at the Jubilee House, who were till date indulging in the galamsey (illegal small-scale mining) activities.
"No 500 excavators went messing, it was somebody who threw that into the media space to tag something of Frimpong Boateng. What am I doing with 500 excavators?"
Charles Bissue, however, took issue with Professor Frimpong Boateng's claim, calling him a liar and asserting that while working for the government, he engaged in illegal mining activities (galamsey).
Speaking in an interview with Okay FM, on March 13, 2023, Bissue explained: "When the issue of galamsey came up, I stepped aside to allow for investigations, because I didn't want to interfere in the affairs of the said investigations.
"But for the excavators…the day that professor Frimpong Boateng went to do that interview claiming that 500 excavators has gone missing, I wasn't in the country so I called him.
"And told him that the national security council, Hajia Alima Mahama and Hon. Dapaah inspected the excavators before they brought them to Accra, so the numbers were recorded.
"…so, prof the 500 that you're talking about, how? and he replied that he knows what he was doing. So, for him to make such a statement four years ago, and now saying this, which is which?
"I wrote a letter and copied the president and all the ministers who were involved. Telling them that I have stepped aside for investigations into the matter but these are the facts. I even had a threat for writing the said letter, because Prof claimed that I have disgraced him.
"Meanwhile, he had given the excavators to people to work with them. I wouldn't have spoken about this but I want them to investigate and get the actual facts.
"…then later on you come and claim that the people of Jubilee House are the ones doing galamsey, he was also doing galamsey.
"Professor Frimpong Boateng, I am saying he was doing galamsey, I can prove it because I worked with him, so, everything I am saying, I can defend."