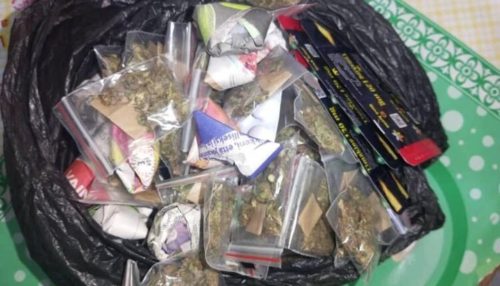 A 17 YEAR old boy is in hot waters now after being arrested with 10 other suspects at a known Wee ghetto during a police operation.
Kwadwo Adjei, the teenager and his cohorts were grabbed at Mayanka, Ahenema Kokoben, Sabin Akrofrom, Trede and Sabin Krofrom, all Kumasi.
During the security operation, the police managed to find parcels and wraps of cannabis that were sellotaped, from the aforementioned ghettos.
Those arrested alongside the 17 year old boy are Azuwia Abeng, 27, Lambeth Bellen, 28, Augustin Gbenik, 24, and Ceazer Agyiri, 27 years old.
The other suspects in the firm grips of the law are Opoku Frederick, 19, Appiah Michael, 24, Francis Agyemang, 23 and Adjei Kwadwo, aged 17.
The remaining suspects who were also apprehended by police included Amoako Sampson, 27, Bayuo Juba, 23, and Maxwell Boakye, 28 years old.
According to a police report, all the suspects, would be screened and those found to be connected with the exhibit would be immediately prosecuted.
The police also explained that the unannounced operation was mainly intended to flush out illicit narcotic drug peddlers and users from Kumasi.