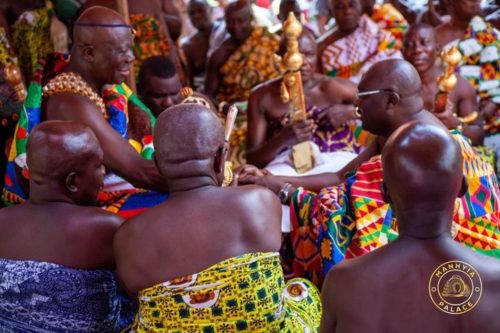 His Majesty the King of Asante Kingdom in Ghana, in local parlance his title is Asantehene, celebrated the very latest traditional ritual known as "Akwasidae."
It is usually a devoted Sunday in which the King holds communion with his great ancestors, performs other customary rituals to cement traditions, and then sits in state to welcome visitors.
The revered King of Asante takes homage from his people and high profile visitors. Asantehene as he is referred to by Asantes and Ghanaians as a whole, employs this occasion to offer advice to the government, and pertinent national issues. He remains the most centripetal to all forces, which is rolled over to moderate and drain out tensions in the system.
Regarded as an oasis of peace and exemplary traditional ruler who has blazed trail when it comes to cultural input in conflict resolution, the Asantehene is hailed by the United Nations and distinguished personalities around the world, for bringing consensus to the Ghanaian political arena.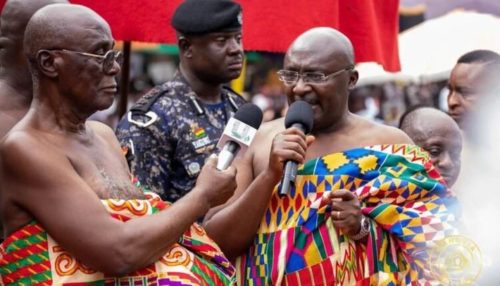 One of his august visitors was the Vice President of Ghana, Alhaji Dr Mahamudu Bawumia. Whilst his state role puts him in the limelight, there is a new dimension to it as he looks like one of the top three across the current political spectrum likely assume the high office of President of the Republic of Ghana in less than two years.
Consequently, his presence in the Ashanti regional capital of Kumasi, all the way to the Manhyia Palace, generated vivacity and vigour.
In the pictures, the Vice President is seen paying homage to the King while in the other the King's Protocol Director Mr Ernest Saahene points another microphone at him during his speech.
All other persons in the colourful Kente cloth have lowered it from their shoulders as a sign of respect for the King. Those not in tune with this convention, are alerted prior to their visit. During the "Akwasidae " any person who came close to His Majesty is held in compliance with this injunction.