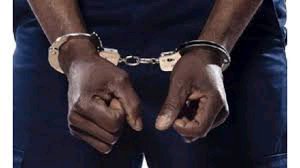 A 47-year-old identified as Alhassan Kunfo, has been arrested by the police for allegedly defiling two underaged children at Bole in the Bole District of the Savannah Region. The suspect is an Emergency Medical Technician.
According to a close source, the victims, aged five and seven years, are neighbors of the suspect.
It was reported that the victims were reportedly passing behind the suspect's house when he lured them into his room and proceeded to sexually assault them one after the other.
The suspect is accused of inserting his fingers into their private parts before taking turns to have sex with both children.
It is reported that the suspect threatened the children and instilled fear in them if they disclosed the encounter to anyone before leading them home.
The seven-year-old victim, who was in pain while taking her bath, informed her parents of the ordeal their neighbor had subjected her to.
The case was immediately reported to the Bole police who facilitated his arrest.
According to reports, the suspect will be arraigned before the Bole district magistrate court and justice will be served.
Meanwhile, a 45-year-old man, identified as Kwabena Yeboah was arrested yesterday for allegedly kidnapping and defiling a 15 -year-old girl at Kasoa Ofaakor in the Awutu Senya East District of the Central Region.
It is reported that the victim left home after visiting her sister at Ofaakor and since then she was nowhere to be found.
Kwabena Yeboah is said to have seen the victim in the community and dragged her to his room, defiled her and locked her, and left for work.
Information gathered revealed that he usually bought the girl food whenever he returned from work, but turned her into a sex machine and had sex with her anytime he felt like.
According to residents, they regularly heard the sound of someone moaning coming from the suspect's room which prompted them to report the issue to the Police.
The Kasoa Ofaakor Police reportedly invaded the suspect's house and found the victim tied with a rope in the corner of one of the rooms and got him arrested.
The victim was sent to the Hospital for medical assessment and treatment whilst the suspect is currently in police custody assisting with investigations.
Meanwhile, a 27-year-old man is on the run after allegedly defiling a 13-year-old girl at Choice in the Weija -Gbawe Municipality of the Greater Accra Region