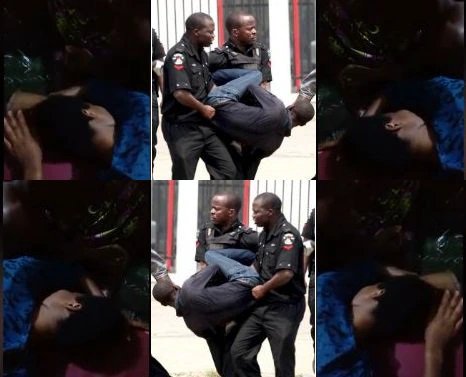 Information reaching your reliable Ghana Education News is that The Ghana Police has arrested at least 10 Nigerians living in Kasoa a suburb of Greater Accra, Ghana for their involvement in the kidnapping of a 17-year-old girl.
According to the father of Priscilla Abekah, his daughter is currently exhibiting signs of psychological trauma. He has disclosed that he suspects they wanted to use his daughter for rituals.
He has called on the Ghana Police led by IGP Dampare to do a full investigation into the matter and ensure the truth comes out and justice is served.
Speaking to the press, the father of the girl said, Priscilla has been admitted to the hospital for treatment given the way she is behaving.
A video of Priscilla shared by Metro TV on the Twitter page showed Priscilla talking about her ordeal. However, she seemed not to make any meaningful statements. She mentioned a door being opened, and being pushed inside, then mentions a dog among others, then screams to be left alone. …" Open the gate, go to where the dog is"….there is one room there, I was inside…he is there, he is there she …" stated while crying.
"I was told the Nigerian boys kidnapped her and kept her in a room, and we do not know what they have done to her. Right now, my daughter is not mentally sound. When we attempted to arrest the Nigerian guys, we were unable to do so."
"I called about four of my warriors, yet they could do nothing. The police were called in, but it took a police reinforcement from the regional office to help arrest the suspects. In the attempt, the suspects hurt most of the Ghanaian men who attempted to arrest them and seized their money and mobile phones." Mr. Abekah, Priscilla's father indicated.
He added that the police managed to retrieve the phones and money from the Nigerian kidnappers after they were arrested.
According to the father of Priscilla, Priscilla is mentally ill now due to what she went through. He could not tell the kind of rituals they might have used Priscilla for, or if they drew her blood for anything.
He called on the IGP to show an interest in the case.