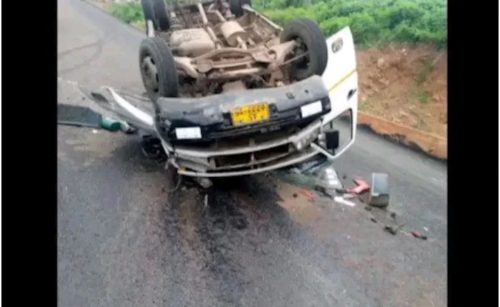 A Mercedes Benz bus with registration number AS-5234-15 has somersaulted on the Adukrom mountain injuring 23 passengers at Adukrom in the Eastern Region.
The bus was reportedly journeying from Somanya toward Accra.
Information gathered revealed that, whilst the 55-year-old driver, identified as Emmanuel Agudi, was climbing the Adukrom Mountain the vehicle developed a fault resulting in the reversing and somersaulting of the bus which was carrying 23 passengers.
The Ghana Police immediately reported to the scene, where the bus was mangled and all 23 passengers were brought out of the bus with various degrees of injury.
The Ambulance service was prompted to the scene to convey the victims to the Tetteh Quarshie Government Hospital
No lives were lost in the accident.