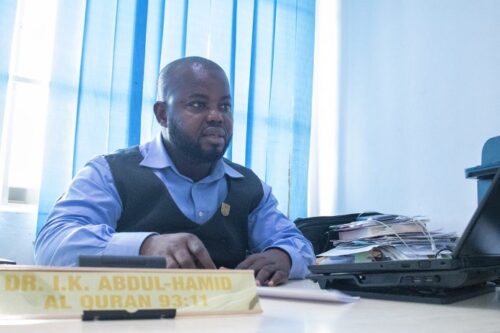 Dr Ibn Kailan Abdul-Hamid, has been appointed the new Head of the Department of Marketing at the University of Professional Studies, Accra (UPSA).
His appointment took effect from January 1, 2023. He takes over at a time when the Department of Marketing is undergoing major transformation and expansion in areas such as new programme development, faculty growth and an increased student population.
Dr Abdul-Hamid, holds a PhD in Marketing from the University of Ghana. He has Bachelor's Degree in Marketing from the Institute of Professional Studies (IPS) and a Master of Philosophy (MPhil) in Marketing.
He is a member of the Chartered Institute of Marketing (CIM)—UK, the Chartered Institute of Marketing Ghana (CIMG), and the Association of International Business.
Dr Kailan Abdul-Hamid, an alumnus of UPSA, revealed in an interview with UPSA Media that he plans to collaborate closely with other faculty members to develop marketable programs to increase overall student enrollment.
"I am also looking forward to improving student services at the department while developing mentorship programmes and activities to enhance student performance," he said.
He also intends to make an impact in areas of staff welfare and faculty capacity building, where he plans to encourage collaboration, mentorship and team spirit with other faculty to help with the promotion of faculty members.
About Dr Ibn Kailan Abdul-Hamid
Dr Abdul-Hamid joined the University of Professional Studies, Accra, as an Assistant Lecturer in 2016. After two years of exceptional service, he was promoted to the rank of lecturer in 2018 by the Management of the University.
In 2019, he was appointed the first Coordinator of the MABC programme where he was instrumental in increasing the number of course enrolments from 18 students in 2019 to 76 in 2020, 120 in 2021, and 150 in 2022.
He is an astute lecturer and has published in many reputable journals. He has also demonstrated sufficient capacity to build strong relationships with students, faculty, and alumni – a skill many believe will make him successful in his new role.