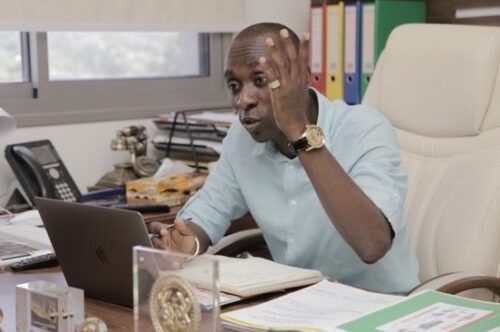 A Deputy Communications Dircetor of the New Patriotic Party (NPP) Ernest Kofi Owusu-Bempah has said that the 2024 elections will be free and fair without any violence
He however said if the main opposition National Democratic Congress (NDC) attempts to unleash violence in the elections, the NPP will meet them squarely.
"There is no brave man in NDC again after Rawlings, Rawlings was the only brave man, the rest are cowards. Sammy Gyamfi and Sam George are toddlers, they know nothing.
"Sam George has nothing, he is a coward, they are just babies with sharp teeth who run their mouths like running stomachs but when it comes to real men they just talk, talk is cheap. I am daring the NDC to tell us if anyone is a man.
"If they try any violence in the elections we will crash them, we don't want any violence in the elections, it will be peaceful, free and fair but if they try we will crash all of them," he said on Sunday April 9.
His comments come after the National Communications Officer of the NDC Sammy Gyamfi criticized the Minister of Food and Agriculture Bryan Acheampong for his comments that the NPP would not hand over power to the NDC.
Sammy Gyamfi in a tweet said "The latest statement by Bryan Acheampong only accentuates the lawlessness and arrogance being displayed by the duty-bearers of Ghana today."
Bryan Acheampong had assured members of the New Patriotic Party (NPP) that the economy will bounce back.
He said the government is working to secure a deal with the International Monetary Fund (IMF).
Hopefully, he said, by June this year the deal will be closed, a situation that will lead to the resurgence of the economy.
Speaking to members of the NPP in Kwahu after a health walk on Saturday, April 8, the Abetifi Lawmaker said "NDC party will collapse. If the NDC dares to use threats, Violence and foolishness in the 2024 election we will let them know we have the men. We will show them that we have the men. We have the men.
"It will never happen that we the NPP will stand on a platform to hand over power to the NDC. It will never happen! We will make sure NPP remain in government at all cost".
The former Minister of State in Charge of National Security added "Now with the way things are changing the economy will bounce back again, I am telling you that we are going to come around that curve and we are going to win the 2024 elections hands down."