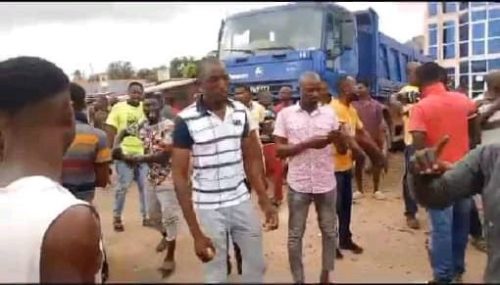 Tipper truck drivers in the Gomoa East District have expressed their displeasure after a clash with the police over a levy imposed by the Gomoa East District Assembly.
Under the new policy, tipper truck drivers are required to pay GH¢80.00 to the assembly per truckload of quarry materials.
Although the District Chief Executive (DCE), Solomon Darko Quarm, has held several meetings with the tipper truck operators on the need for the levy to be paid, it has been difficult to get the drivers registered with the Progressive Transport Owners Association (PROTOA) to comply with the policy.
The assembly's decision to order the arrest of drivers who failed to pay the levy led to a near-volatile situation when personnel from the Central East Regional Police Command intervened to carry out the arrest.
Ibrahim Abass, a tipper truck driver with the PROTOA, claims that the assembly is not treating them fairly since they are only tipper truck drivers who load at the site.
We are only Tipper Drivers and not quarry workers
Describing the levy as obnoxious, the station master for the PROTOA Tipper Truck Drivers Association, Eric Addo, called on the Minister of Local Government to intervene.