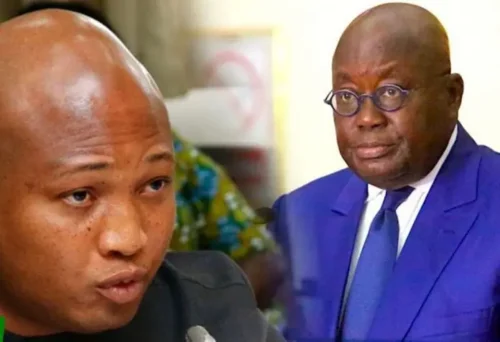 North Tongu Member of Parliament Samuel Okudzeto Ablakwa who has been criticizing President Nana Addo Dankwa Akufo-Addo for hiring private jets for his travels abroad, has commended the President for traveling on Ghana's Presidential Jet recently to Germany and Ethiopia.
Mr Ablakwa said the President saved the taxpayer GH6.5 million for using the Presidential Jet.
"Our unimpeachable tracking of Prez Akufo-Addo's latest foreign travels to Germany & Ethiopia reveal that he used Ghana's Presidential Jet for the entire duration.
"His commendable conduct saves the suffering taxpayer some GHS6.5million. This is what Ghanaians have been demanding," the opposition lawmaker tweeted on Monday, February 20.
President Akufo-Addo, while in Munich Germany urged the international community to send a clear message to coup plotters that coups have never been, and will never be durable solutions to Africa's political, economic and security challenges.
According to President Akufo-Addo, "Statements condemning coups alone without corresponding action will, however, achieve little or nothing, as witnessed in recent times. This problem requires collective agreement, effective deterrence, bold action and, equally important, adequate preventive measures."
Delivering the keynote address at a side-event organised by the United Nations Development Programme (UNDP), on the sidelines of the Munich Security Conference, in Munich on Friday, 17th February 2024, the President stated that "there are those who still hanker after authoritarian, personal rule, because they claim Africa is underdeveloped and democracy is cumbersome, and we need to get things done in a hurry."
Quoting from the 2019 Annual Risk of Coup Report, he indicated that Africa has experienced more coup d'états than any other continent, which, he said, is "an unsavoury statistic".
Citing the case of Ghana, President Akufo-Addo noted that political instability described much of the early decades of the nation's life as an independent nation, and Ghana became notorious for sampling every and any type of political experiment.
"The one-party-state of the First Republic was overthrown in our first military coup, and the Second and Third Republics, which were practicing democratic governance, were also overthrown by coup d'états. My father, President of the 2nd Republic, was overthrown some fifty-one (51) years ago, on 13th January 1972. Kutu Acheampong's coup brought his stay in office to an end," he said.
The President continued, "the instability instigated the collapse of the economy, and led to the exodus from the country of many citizens and professionals. We have probably not still recovered from the tendency to want to leave the country as the answer to difficult situations."
He noted, however, that for the past thirty (30) years of our 4th Republic, Ghana has enjoyed political stability under a multi-party constitution, and the longest period of stable, constitutional governance in our hitherto tumultuous history.
The President told the gathering that the separation of powers is now a real phenomenon in Ghanaian life, promoting accountable governance. Efficient public services are now within reach.
"We have, in this period, experienced, through the ballot box, the transfer of power from one ruling political party to another on three (3) occasions in conditions of peace and stability, without threatening the foundations of the state. The Ghanaian people have manifested in this era their deep attachment to the principles of democratic accountability, respect for individual liberties, human rights and the rule of law. It has also brought with it more or less systematic economic growth, and boosted immensely our self-confidence," he added.
By Laud Nartey|3news.