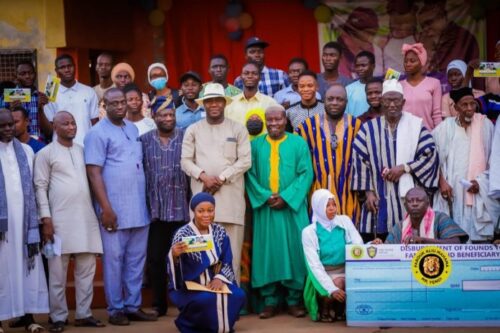 The Farouk Aliu Mahama Educational Care Fund (FAMEC-FUND), a scholarship fund set up under the auspices of the Member of Parliament for Yendi, Farouk Aliu Mahama, has disbursed scholarship funds to over 70 brilliant but needy students studying various courses in the tertiary rug of the educational ladder.
"I am hopeful that this support will cushion you the beneficiary students in footing your academic user-fees and other educational expenditure," the Yendi MP stated as he disbursed the scholarship funds to the beneficiaries.
As you may remember, prior to my election as MP, I made a commitment to education and since coming into office, I instituted the FAMEC-FUND to support education of particularly needy but brilliant constituents."
He emphasized that education must be balanced and be accessible to all regardless of one's status in the society – whether rich or poor, privileged or handicapped, able or disabled.
"Money should not be a barrier to deny any child the access to education and no brilliant but needy child should be left behind. I hold the view that a brilliant child of a peasant farmer in Nakpachei or Oseido or Ngono should have the equal chance to tertiary education as the child of a Minister in Accra will have."
A beneficiary and Level 200 student of the Tamale campus of the University for Development Studies (UDS), on behalf of the beneficiaries, expressed gratitude to the MP for the gesture.
He indicated the support is not only timely, but also enough to pay the fees.
The FAMEC-FUND was launched in 2021 to support brilliant but needy students in the Yendi Constituency.