The police in the Upper East Region have arrested three people for allegedly stealing medicines from the Bolgatanga Regional Hospital.
Raymond Asoke, Noeyelle Bridget, and Raheem Fasilat were arrested following an intelligence-led operation by the police.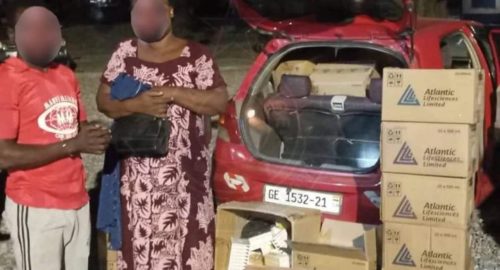 Raymond Asoke, a driver at the Bolgatanga Regional Hospital, was detained on August 4, 2023, according to a police report. He was seen placing boxes of pharmaceuticals from an unidentified house into a saloon car with the registration number GE 1532-21.
An eyewitness, who was monitoring the activities of the suspects, gave the authorities a tip on the exact location of the hiding site.
The police performed a search after receiving a tip and discovered boxes of drugs stashed in the premises, where twenty-two (22) further boxes containing various medicines were discovered and retrieved.
The police then performed another search in the car, resulting in the recovery of twelve (12) cartons of various pharmaceuticals.
According to an eyewitness, the police-seized boxes included a variety of medications, including drips, antimalarial medications, anaesthetics, and other essential items delivered by the Ministry of Health to the hospital.
Further inquiry led to the arrest of suspect Noeyelle Bridget, an Assistant Dispensary Officer at the hospital's pharmacy.
In addition, suspect Raheem Fasilat, the regional storekeeper at the hospital, admitted to giving boxes of medicines to the driver.
The police said all three suspects are currently in custody and will be brought to book to face justice.
The police have consequently launched an investigation to identify and arrest other accomplices.