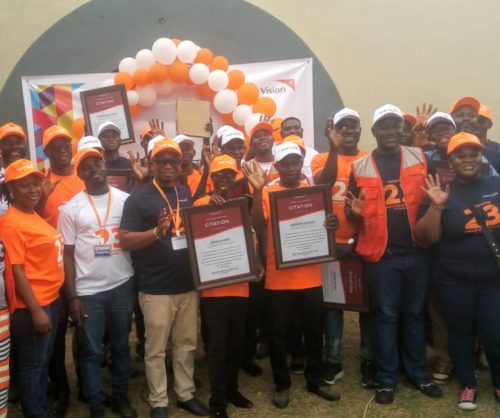 Officials of World Vision Ghana held a pomp durbar on Monday, 14th August 2023 to mark the official closure of the organization's program for Atebubu-Amantin Municipality of the Bono East Region.
They have worked within the municipality for 23 years and have successfully carried out their goal; "To contribute to improving the well-being of all children, families and communities with a special focus on the most vulnerable children".
Theme for the occasion was "Celebrating 23 Years of Quality Development In Atebubu".
EVENT
The event was graced by Nana Afia Denyina (Queen Mother for Atebubu Traditional Area), Nana Kwabena Kyere III (Atebubu Adontenhene), Municipal Chief Executive Hon Edward Owusu, among others.
Plagues and citations were given to the Municipal Assembly, the Municipal
Health Directorate, NCCE, Local Council of Churches, Child Welfare Supervisors (CWS) etc in recognition of their efforts towards improving lives of the vulnerable.
SUCCESSES ACHIEVED
Among the successes achieved since World Vision Ghana's 23-year period of program execution in the municipality as highlighted at the durbar by Joshua Baidoo (Integrated Programmes Director) on behalf of Laura Christina Delvalle are;
Reaching out to and directly impacting more than 85,000 lives. This includes 33,364 vulnerable boys and 37,316 vulnerable girls in over 160 communities in the Municipality.
To address water, sanitation and situation, he said World Vision Ghana drilled 452 boreholes and Wells in 164 communities.
It have also constructed and mechanised seven high-yielding boreholes, constructed 206 improved latrines in schools and health facilities, trained 1,985 Water and Sanitation Management Teams (WSMT), and trained 652 pump mechanics.
"This ensures sustainable access to safe drinking water for thousands of people in the Municipality and its surrounding communities", Joshua Baidoo- indicated in his address at the durbar.
EDUCATION
In education, World Vision Ghana constructed and furnished 10 school blocks, rehabilitated eight (8) classroom blocks and teachers' quarters, provided financial support to 1,980 brilliant but needed students, distributed educational materials (including complementary readers) and supported adult literacy programmes that have positively impacted learning outcomes.
HEALTH
Integrated Programmes Director for the organization further indicated that in health and nutrition sector, World Vision has built a community health center and three traditional birth and delivery centers.
The organization also supported immunisation efforts and trained health management committees to train mothers in exclusive breastfeeding and feeding practices.
The foregoing gains according to him contribute to the reduction of malnutrition in children under age 5, anaemia in pregnancies and improved maternal and child birth.
LIVELIHOODS
World Vision Ghana has established several gari processing centres, trained and supported beneficiaries in bee-keeping and grasscutter rearing, and trained farmers in modern and smart agriculture techniques, improving household food security.
SAVINGS
Savings for Transformation groups created easy access to financial services, especially for women and village entrepreneurs increasing household income and reducing poverty levels among beneficiaries.
Through Faith and Development, World Vision Ghana has strengthened the capacity of Faith leaders and parents to support children to develop a closer relationship with God and their neighbours, promoting peace, unity, development and childcare.
"Over 3,000 children have benefitted from our sponsorship programme. Through our Family Sponsorship model, 50 houses were built and 250 renovated."
By :Enock Akonnor