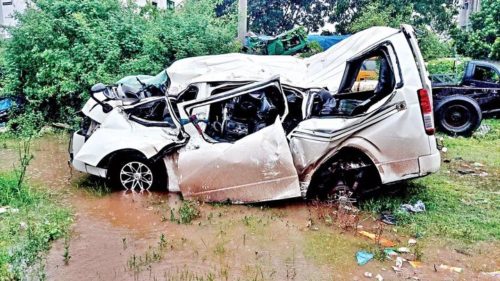 They wanted to take a short break from their busy professional life in the lush green landscape of some tourist spots in Sylhet.
But the weekend trip which was supposed to rid them of the monotony of daily life cut their lives short.
Six of the seven people — who were killed in a road crash in Ghasirdia area of Narsingdi's Shibpur upazila early yesterday — were colleagues.
They were merchandisers at a company in Ashulia, Savar. They had planned to spend their weekend in Sylhet. The accident took place when a microbus carrying them collided head-on with a sand-laden truck. Four other people were injured in the crash.
The deceased were identified as Sabuj Mia, 32, of Tangail's Delduar upazila; Al-Amin Hawlader, 37, of Jhalakathi's Rajapur upazila; Al Amin, 27, of Tangail's Mirzapur upazila; Abdul Awal, 40, of Madaripur's Kalkini upazila; Aryan alias Raihan, 25, of Barishal's Muladi upazila; Raju Mia, 37, of Jamalpur's Sarishabari upazila; and Md Nasir, 28, the driver of the microbus.
Abdul Hamid, commercial manager of SB Knitting, told The Daily Star that the microbus was carrying 11 employees of the company to Sylhet.
Firoz Talukdar, officer-in-charge of Shibpur Police Station, said the four injured received primary treatment at Narsingdi District Hospital. Later, they were sent to Dhaka Medical College Hospital for better treatment.
Adif Khan, younger brother of deceased Al Amin, said, "As I work at a resort in Sylhet, I planned to show my brother and his colleagues some tourist spots in the district. I could not believe my ears when I heard over the phone about the death of my brother."
OC Firoz said they primarily suspected that over-speeding might have caused the accident.
He said police detained the truck driver for interrogation.