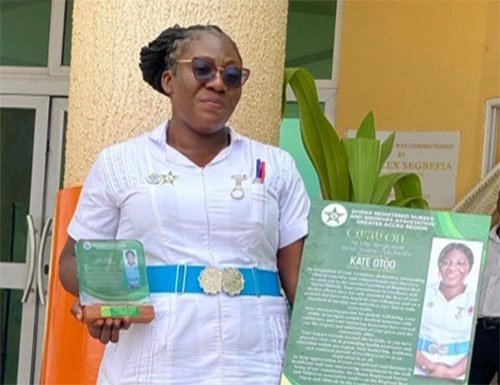 Senior Registered Midwifery Officer at the Antenatal Clinic of Pentecost Hospital in Madina, Kate Otoo, has emerged the Best Midwife/Nurse in the Greater Accra Region by the Ghana Registered Nurses and Midwives Association (GRNMA).
The nurse, who has over 13 years of experience in midwifery, began to showcase her ability to provide efficient healthcare services when she participated in the local and district GRNMA Best Nurse/Midwife awards.
She further sharpened her skills by representing Pentecost Hospital at the Regional Level for the GRNMA Best Nurse/Midwife Awards. With representatives from other healthcare facilities, each participant was required to present unique healthcare innovations that could help solve some problems in the healthcare system.
Ms. Otoo showcased her innovation, the Birth Before Birth Arrival Kit (BBA Box), which was designed to address the critical issue of birth before arrival. The life-saving kit ensures prompt attention to complications during childbirth and also enhances the emergency preparedness of midwives.
Ms. Otoo's innovative contribution was met with deep appreciation and admiration by the judges, leading to her well-deserved recognition as the Best Nurse/Midwife in the Greater Accra Region.
Her achievement is not only a source of pride for Pentecost Hospital, Madina but also for the entire Greater Accra Region and plans to place BBA Boxes in labor wards and triages are currently ongoing, demonstrating Ms. Otoo's commitment to ensuring swift and efficient assistance during critical moments.
Source:dailyguidenetwork.com