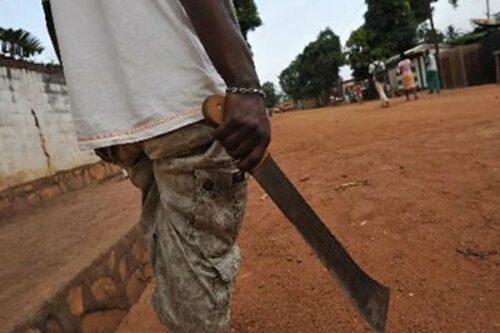 A 71-year-old visually impaired man has allegedly killed his wife at Abepotia near Nkawkaw in the Eastern Region of Ghana.
According to reports, the man, identified as George Mudor, butchered his wife at dawn while she was sleeping and confessed to one of his daughters in the morning.
The victim, Grace, who is believed to be in her late sixties allegedly asked her husband for a divorce.
The request did not go down well with Mudor, who snapped and committed the crime.
An eyewitness who discovered the body said that the victim had deep cuts to her neck and face.
After the discovery, he, together with the victim's children reported the incident to the police.
Meanwhile, the Assembly Member of the area revealed that the couple had lived in harmony for years until recent disagreements changed the dynamics of their home.
He said the victim, who was allegedly fed up with taking care of her husband, is said to have considered divorce as a result.
Some co-tenants who also spoke to journalists, however, believe it is a premeditated murder as the suspect had allegedly threatened his wife's life on a number of occasions.
They added that they took the threats lightly due to his condition.
Meanwhile, the suspect has been arrested and is currently with the police assisting with investigations.