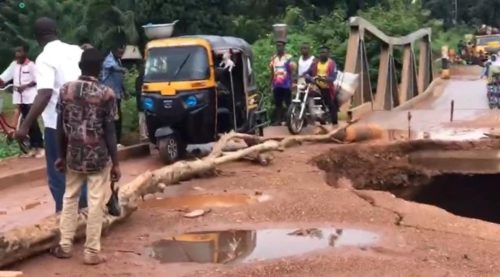 This was after they fell into the collapsed bridge on River Dejebo.
A nursing officer at the hospital, Rebecca Ann Vorvor, said the victims were brought in unconscious because their heads hit the iron rods on the collapsed bridge.
Speaking to Adom News, one of the victims, 21-year-old Paul Obimpeh, who is still on admission said he was travelling with his father from Tuobodom to Nkwanta when he fell into the collapsed bridge.
The steel bridge that connects communities was exposed to danger after heavy rainfall washed portions of it away, but several reports to get government attention to fix the bridge have proven futile.
They have therefore appealed to the government as a matter of urgency fix the bridge to save lives.