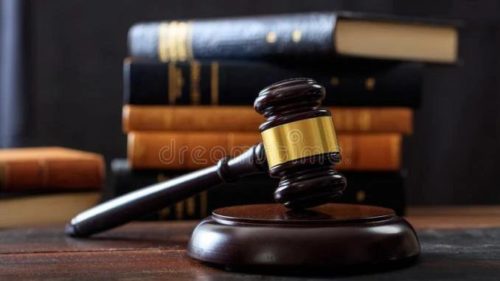 An Accra Circuit Court has granted bail in the sum of GHC50,000.00 with two sureties each to two men for falsifying documents to make a GHC400,000.00 insurance claim.
Joseph Amaning and Baffour Nkyi jointly forged a Glico insurance claim documents including a postmortem report, police accident report, death certificate and burial permit of a deceased person, Jacob Tetteh, for the claim.
Amaning and Nkyi were also ordered by the Court, presided over by Mr Isaac Addo, to report to the police every Friday between 1100 and 1300 hours.
They will make their next appearance on September 25, 2023.
Meanwhile Gideon Agyei Gyamfi, their alleged accomplice was absent in court.
They are facing charges including conspiracy to commit crime, forgery of documents and defrauding by false pretence. Their pleas were not taken into consideration pending further investigations.
Police Chief Inspector Samuel Ahiabor prayed the Court to remand the accused persons into Police custody so that investigations would not be hampered.
Defence counsels for both Amaning and Nkyi, in seeking bail, stated that their clients had cooperated with police since their arrest, that they were not flight risks, that they had fixed places of abode, and that they had men of substance to provide sureties.
According to the prosecution, the complainant Alexander Boakye-Yiadom is the Claims Officer at the Head Office of GLICO Life Insurance Company in Adabraka, Amaning is a building contractor who lives in Tema Community 9, Nkyi, a businessman, resides in East Legon, and Gyamfi, also a businessman, stays in Akrade-Akosombo.
According to Chief Inspector Ahiabor, on January 19, 2023, the complainant received GLICO Insurance Claim documents from Amaning and Gyamfi, who claimed to be brothers of the said Tetteh, who was alleged to have died in a motor accident, for claims totalling GHC400,000.00, which were later discovered to be fraudulently obtained.
He said on May 22, 2023, a report was filed at the Adabraka Police Station for investigation, and Amaning was arrested.
During questioning, he admitted to filling out and submitting the form handed to him by Gyamfi at the GLICO Office.
Amaning claimed that Gyamfi called and asked that they meet at the GLICO office and that his name had appeared on the policy form as a beneficiary.
The prosecution said on May 30, 2023, Nkyi, whose name appeared on the receipts of payments for the deceased person's death certificate and burial permit, was also arrested and during interrogation, denied the offence.
On June 28, 2023, Gyamfi was also arrested at Atimpoku in the Eastern Region and upon interrogation, denied the offence in his cautioned statement.
The investigation then revealed that the deceased died on September 25, 2022, at the Kibi Government Hospital after a short illness and was buried on October 5, 2022, at Asikasu Number 2 near Tafo in the Eastern Region.
He stated that queries at the Asesewa Police Station showed there was no accident case reported on December 25, 2022, as stated in the claim documents.
The prosecution said the District Commander at Asesewa Police Station denied knowledge of the accident report and submitted a statement to that effect.
He said that the Police investigator at Asesewa, whose name and signature appeared on the coroner's report, also denied knowledge of the document and that the accused were not related to the deceased.
Further investigation revealed that soon after Tetteh's death, Nkyi and his accomplices bought a Funeral and Life Insurance Policy in the name of the deceased from the GLICO Insurance branch office in Koforidua.
The prosecution said they were able to fraudulently obtain the required documents to support their claim at the GLICO Insurance Headquarters in Accra.