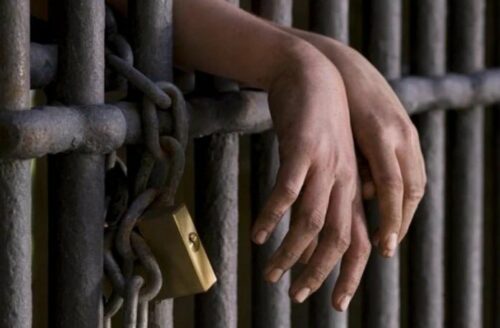 A 29-year-old trader who threatened another trader with a sword has been sentenced to 150 days imprisonment by an Accra Circuit Court.
Osman Boustani, charged with threat of harm, pleaded not guilty to the charge last year.
When the case was called in court, the accused change his plea to guilty.
This was after the Court presided over by Mrs Evelyn Asamoah took the accused person's plea again.
He was therefore convicted on his own plea and sentenced accordingly to serve the imprisonment to serve as a deterrent to others.
Counsel for the convict had earlier pleaded with the court for mitigation.
The facts as presented by prosecution led by Police Chief Inspector Richard Amoah was, the complainant, Mr Yussif Iddrisu is a trader who deals in African wears at a place opposite the Ghana Commercial Bank on the Oxford Street Osu, while the convict is also a resident of Oxford Street.
The prosecution said on April 09, 2022, at about 1500 hours, the convict parked his vehicle by the roadside on the Osu Oxford Street where the complainant had displayed his African wears for sale.
Mr Amoah said the complainant approached the convict and pleaded with him to move a little forward to enable pedestrians to have a clear view of his displayed goods.
The prosecution said the convict never adhered to the request made by the complainant but rather became offended and insulted the complainant with a threat to beat him up.
He said the convict alighted from his vehicle apparently to beat the complainant up but people at the scene intervened and stopped him from executing his intention.
The prosecution said the convict returned to his vehicle and moved away.
It said a few minutes later, the convict returned to the scene holding a sword and brandishing the same on the ground amidst threats to kill the complainant.
The prosecution said the complainant together with one other escaped into a nearby jewelry shop to seek refuge.
Mr Amoah said the convict followed the complainant to the shop where he had sought refuge and continuously brandishing the sword hitting the door of the shop, but he could not gain access because the door was locked.
The prosecution said the convict after a while left the scene and the complainant also left the shop to the Osu Police station and reported the matter.
He said the convict was arrested and during investigations the sword was retrieved from the room of the convict concealed in a sofa.
GNA