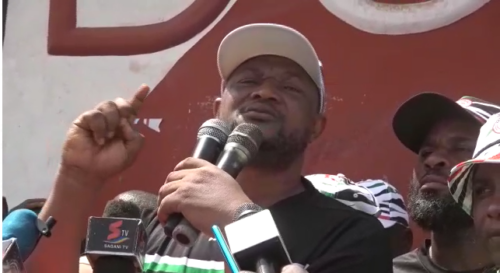 Kennedy Agyapong, Member of Parliament for Assin Central has publicly opposed two major government positions.
The two are the exclusive use of Ghana Card as proof of identification for the registration of new voters and the much-touted Gold-for-oil policy.
The outspoken lawmaker expressed his express opposition to the two policy positions during a March 10, 2023 interview on Kumasi-based Sompa FM.
Opposition to Ghana Card as sole ID for voter registration
Agyapong said he was opposed to a proposed Constitutional Instrument (CI) seeking to make the Ghana Card the sole Identification document for registration of new voters.
The CI, proposed by the Electoral Commission is currently before Parliament with strong opposition from the Minority Caucus with strong support from the other side.
Agyapong, is particularly concerned with the decision to strike out the passport as a proof of citizenship.
"For Americans, even Ghanaians who have naturalized, they are so proud to hold an American passport. Ghana has people taking bogus decisions and I wonder those who sit there and take such decisions.
"That a whole Ghana passport, you claim that to register to vote, we won't allow use of the Ghana passport, we have lost our identity to National Identification, what?" he lamented.
He reiterated his strict opposition to the CI asking, "what makes me know I am a Ghanaian? It is my passport."
The CI aims to amend the current law to make Ghana Card, the sole proof of identification for registration of new voters, removing the existing options of the use of passports and the guarantor system.
Gold-for-oil opposition
Kennedy Agyapong advanced the viewpoint that instead of selling the raw gold, government should pursue a path of refining the mineral and adding value to the mineral before selling it.
He believes that funds accrued from the finished gold products will be more than enough to purchase the oil and also facilitate the growth of the economy.
"Does it make sense to you to buy oil with gold? Why don't you sell your gold, make the money and go and buy the oil?" he quizzed.
"I didn't go to school but I know Economics. There are simple things that we can do. And I'm surprised, we say we have the men and we are hailing this? We are hailing gold for oil? Jesus Christ! We need to move, move," he said.
The beginning of 2023 has undoubtedly been tough economically for Ghana, with many of the country's economic indicators hitting unprecedented lows.
Vice President Mahamudu Bawumia in November 2022 first announced the government's plan to undertake the Gold-for-Oil initiative. The deal hinged on buying oil products with Ghana's gold instead of the US dollar.
Dr. Bawumia explained on Facebook that using gold to buy oil would help Ghana's dwindling foreign reserves while also reducing demand for US dollars from oil importers.