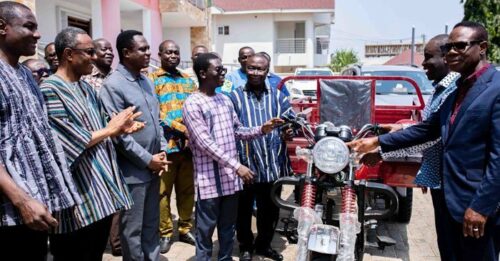 The external branch of The Church of Pentecost in the United States of America (CoP-USA Inc.) has donated six tricycles to Fulani communities in Ghana through the Home and Urban Missions (HUM).
The donation, worth $5,000, were dedicated and presented on behalf of CoP-USA by the International Missions Director (IMD), Apostle Emmanuel Agyemang Bekoe, at a brief presentation ceremony at the just-ended International Missions Board meeting.
Explaining the rationale for the donation in an interview with PENTECOST NEWS, the National Head of CoP-USA, Apostle Michael Agyemang-Amoako, said: "When we learnt that the Fulanis converts had lost their jobs due to their decision to surrender their lives to Christ, we were moved to come to their aid and provide them with some form of employment."
"This, we believe, would also encourage others, who are afraid of facing similar fate, to come to Christ," he added.
Elder Dr. Ken Aboah, a Trustee of The Church of Pentecost and the Chairman of the Legal Committee of the Missions Board, thanked the CoP-USA for the kind gesture.
He also revealed that the CoP-USA has offered educational scholarships to Fulanis who are interested in pursuing tertiary education.
"This is helping to prevent the Fulani's from engaging in dubious activities in the communities, while bringing them to the saving knowledge of Christ for maximum impact," he stated.
The HUM National Coordinator, Apostle Emmanuel Agyei Kwafo, received the tricycles for onward distribution to the beneficiaries.
Present at the presentation ceremony were Apostle Eric Nyamekye (Chairman), Apostle Alexander Nana Yaw Kumi-Larbi (General Secretary), Apostle James Sundaram Raj (RCC Co-ordinator Far East and Asia/ Oceania & Executive Council Member), Apostle Ousmane Zabre (RCC Co-ordinator Francophone West Africa & Executive Council Member), Apostle Angelino Binda Jequessene (SADC), Apostle Massaboi Zuwu (Anglophone West Africa), and Apostle Sam Agyemang Tabi (Europe – Acting).
Others were, Apostle Samuel Appiah (Middle East), Apostle Seth Fianko (East Africa), Apostle Komi Tchango (Central Africa), Apostle Lawrence Otu Nyarko (Co-opted Member / FAD), Pastor George Prah Amonoo (Missions Board Member), Elder Professor Stephen Kwankye (Missions Board Member), and Deaconess Mrs. Ruth Keelson (Co-opted Missions Board Member).