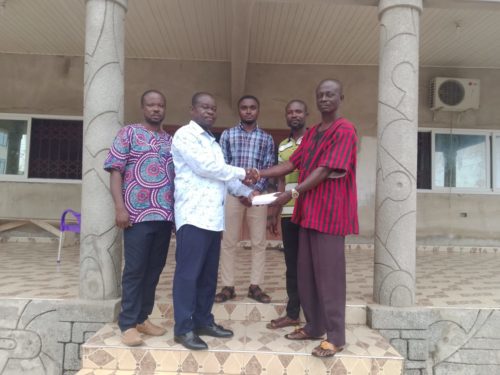 A Philanthropist cum a Politician an a native of Dunkora in the Bosome Freho District of the Ashanti Region, Mr Peter Agyei Agyemang popular know as PA has stepped in by donated GH$ 5000 cedis to chief and unit committee of Korchikrom to save what could have bring future unforeseen circumstances that may befall Korchikrom M/A School when it rains and wind.
The State of Korchikrom M/A School is a deathtrap, school building facility that posses danger to both teachers and pupils of the school over the past years, the situation forced the teachers sometimes fined teaching difficult when raining or wind blow, the pillars has developed cracks.
Hon Peter Agyei Agyemang said Education is the most important source of empowering and providing opportunities to youth to help drive Ghana's development and in the process create jobs, and is one of the important tools for national development adding that education is the bases to the society.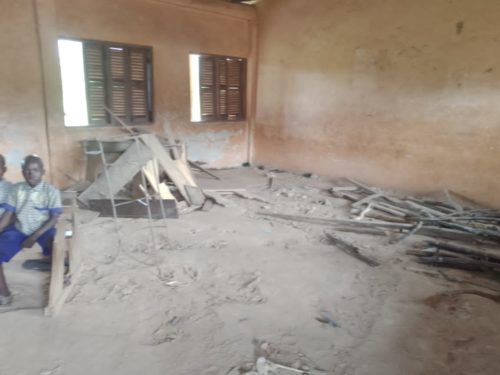 He reveal that countries that have done well, even without national resources, are the countries that have invested in education and skills training (and for that reason) that's why I'm committed my resources in both former and informer education sectors.
Finally Mr Peter Agyei Agyemang aka P.A edged that education is a pivotal role in climbing the education ladder and achieving success and education is dear to my heart, and so I will do my best to ensure that the children are taught in a conducive environment and soundmind.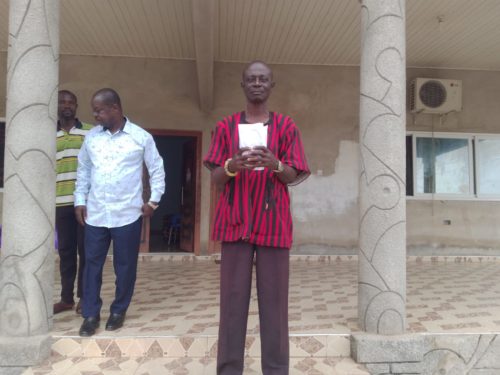 On his part Chief of Korchikrom Nana Korchi Ababio said Mr Peter Agyemang has contribute a lot when it comes to projects within Bosome Freho District distribution of computers and WiFi to 71 Schools (Communities) and reroofing of some schools.
Finally Nana Korchi Ababio thanked a Philanthropist cum a Politician for the support.
Nana Korchi Ababio listed projects and works done by Mr Peter Agyei Agyemang many communities are;
01. Dunkora – 15 Desktop computer and WiFi internet
02. Juapadu – 10 desktop computer and WiFi internet
03. Abosamaso – 10 desktop computer and WiFi internet
04. Tebeso No 1 – 10 desktop computer and WiFi internet
05. Tebeso No 2 – 10 desktop computer and WiFi internet
06. Frebaye – 10 desktop computer and WiFi internet
07. Ayamso – 10 desktop computer and WiFi internet
08. Nnsuam – 10 desktop computer and WiFi internet
09. Asiwa JHS – 10 desktop computer and WiFi internet
10. Bobeam – 10 desktop computer and WiFi internet
11. Akaase – 10 desktop computer and WiFi internet
12. Asiwa SHS – 10 desktop computer and WiFi internet
13. Duase – 10 desktop computer and WiFi internet
14. Esase – 10 desktop computer and WiFi internet
15. Timiabu – 10 desktop computer and WiFi internet
16. Abosoma – 10 desktop computer and WiFi internet
17. Nyamebekye – 10 desktop computer and WiFi internet
18. Nsuta – 10 desktop computer and WiFi internet
19. Dompa – 10 desktop computer and WiFi internet
Communities constructed Network Pole are;
01 Appiahkrom
02 Nsuta
03 Abosamaso
04 Semidadeso
05 Dunkora
06 Adieto
07 Juapadu
08 Dompa
09 Akaase
10 Nnsuam