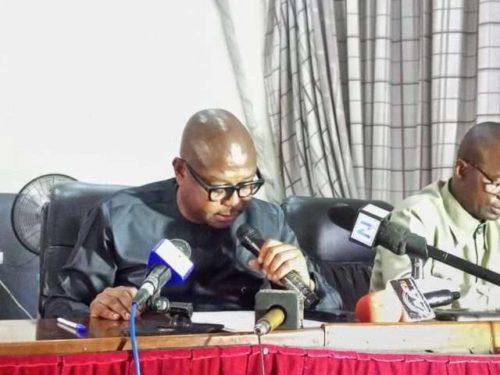 The Tamale Metropolitan Assembly has given its backing to the activities of the volunteer group fighting the trading and abuse of illicit drugs in the metropolis and other parts of the Northern Region.
The leaders of the group known as Rescue Mission on Illicit Drugs in Dagbon (RMIDD) were invited to brief the 2nd General Assembly Meeting of the Assembly on Wednesday, September 6, pertaining to their operations and how to collaborate with the city authorities and other stakeholders in combating the menace.
The Metropolitan Chief Executive, Hon Sule Salifu, in his remarks said the management of the assembly is determined to support the group with the requisite financial resources to enhance their operations.
He indicated the assembly is also committed to coordinate the efforts of the group, the Ghana Police Service, traditional and religious leaders and all interested stakeholders to stem the drug menace in the metropolis.
The Tamale Mayor further admonished the Ghana Immigration and Custom Services to be more vigilant on the borders in order to prevent the illegal entry of the illicit drugs.
According to Mr Sule Salifu, Management of the assembly was also charged to liaise with the Motor Traffic and Transport Department (MTTD) to organize sensitization exercises to the general public to reduce the spate of road accidents within the metropolis.
"The police service was also charged to strengthen security in the metropolis by increasing police visibility in every nook and cranny of the metropolis. In order to improve the security situation, the assembly also recommended the provision of more streetlights on the main and access roads in order to prevent crimes at night" he stressed.
The Presiding Member of the TaMA, Mr. Abubakari Issah, in an interview said the assembly will enact a bylaw to streamline the work of the group.
"After this we will sit as a house to discuss the specific bylaws that we will enact to support the operations of the group, but apart from that, we have agreed as a house to support them in all their activities that has to do with the fight against drugs and substance abuse" he stressed.
Chairman of the Taskforce, Alhaji Kamil Yarinaa for his part commended the assembly, security, chiefs, religious leaders and all relevant stakeholders for their continuous support to clampdown the use illicit drugs in the northern region.
He acknowledged the numerous challenges and resistance from a section of the public but gave an assurance that members of the group are determined to surmount those challenges to safeguard the sanctity of the society and future of the youth who are largely affected.
"As a group, our mission is to work until the day of our breath because we will make sure, slowly, but surely, we will eradicate illicit drugs in Dagbon and beyond" he emphasized.