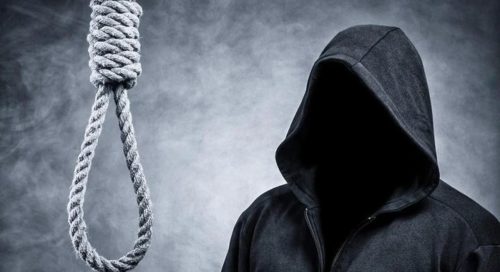 Police in Takoradi have commenced an investigation into the death of a young man believed to be in his twenties who is alleged to have hanged himself to death over a heartbreak.
Court sentences 2 men to death by hanging for murdering cleric/Illustration
A man named Clement was found dead in Eshiem, a community in the Sekondi-Takoradi Metropolis of the Western Region. Nana Kofi, who speaks for the Chief of the community, confirmed this to Connect FM. Clement had been missing for a few days, and despite extensive searches, he couldn't be found. It was later discovered that he had been telling his friends about feeling abandoned by his lover, whom he had spent a lot of money on. He had even mentioned wanting to end his life, but no one took him seriously. The body was found hanging from a tree on a rubber farm, and the police were informed.
Clement used to work for a manufacturing company before he disappeared and died. Armstrong Arthur, the Assembly member for the area, expressed confidence in the ongoing police investigation to uncover the truth about Clement's death.The news of Clement's tragic death sent shockwaves through the tight-knit community of Eshiem. As word spread, neighbors and friends gathered in somber groups, trying to make sense of the devastating loss. The air was heavy with grief and unanswered questions.
Nana Kofi, the spokesperson for the Chief, addressed the media, his voice filled with sorrow. He spoke of Clement's disappearance and the desperate search efforts that had taken place. The community had rallied together, combing through every corner, hoping to find their missing friend alive. But their worst fears had become a heartbreaking reality.
It was revealed that Clement had confided in his close friends about his feelings of abandonment and despair. He had poured his heart out, sharing the pain of a love that had seemingly turned cold. The weight of his emotional burden had become too much to bear, and he had mentioned contemplating ending his own life. Regrettably, his cries for help had gone unnoticed or dismissed as mere words uttered in anguish.
The discovery of Clement's lifeless body hanging from a tree on a rubber farm was a chilling sight that left a lasting imprint on the minds of those who found him. The police were immediately notified, and they swiftly began their investigation, determined to uncover the truth behind this tragic incident.
As the community mourned the loss of a beloved member, Armstrong Arthur, the Assembly member for the area, expressed his confidence in the ongoing police investigation. He reassured the grieving community that no stone would be left unturned in their pursuit of justice for Clement.
The death of Clement served as a stark reminder of the importance of listening, supporting, and taking mental health concerns seriously. It highlighted the need for communities to come together, to be vigilant, and to offer solace to those who may be silently battling their own demons.
In the days that followed, Eshiem would forever carry the weight of Clement's untimely demise. But through their collective grief, they vowed to honor his memory by fostering a community that values compassion, empathy, and understanding.