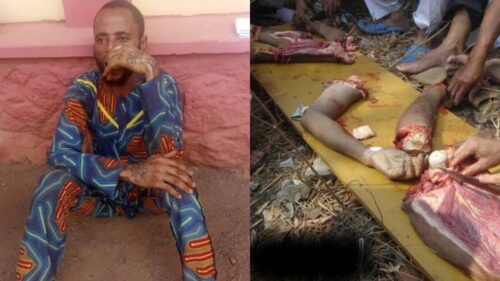 Suspected ritualist confesses to buying two human legs for N20,000 in Ogun State
"I bought two fresh human legs, but I was not involved in the murder of the victim. I was approached by my friend, Lukman, who told me he had a pair of legs to sell. Though I told him I did not need them, he convinced me to use them for ritual to better my life, and I agreed. I, however, told him I did not know how to make money rituals as I was not taught that as a traditionalist. He then referred me to his friend from Oye, popularly known as Egbeji in Isiwo.
After I was taught how to go about it, I burnt the legs and kept them in my house with plans to complete the ritual when I returned from Ajah because I had a job to do there.
However, my daughter called me while I was at Ajah that the police had come to the house looking for me. So, I later sneaked in and took away the burnt legs so that I would not be caught with any evidence because I heard that Lukman had been arrested and he had mentioned my involvement in the case."
"I did not offer the police any bribe. When I heard that the police were on the lookout for me, a lawyer told me to get N10 million to set myself free, but I told him I could not raise the money. However, I was able to raise N1 million. Unfortunately for me, the lawyer claimed that I had informed someone about him asking me for money. He then instructed me to place the money in front of him and he took a picture, and then I was arrested. I never offered police money."
This incident has raised concerns about the increase in cases of ritual killings in the country. The police have, however, assured the public that they are working tirelessly to bring the perpetrators to justice.