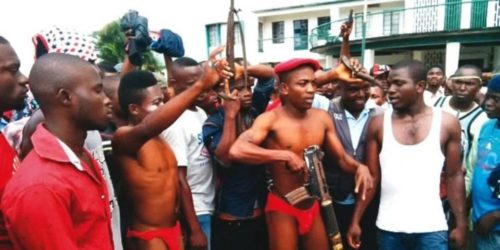 The motive behind the murder remains unclear, but there are hints of the victim's prior involvement in cult-related activities
The perpetrators initially shot at the man before stabbing and dismembering his body with sharp objects
The Anambra State Police, led by DSP Tochukwu Ikenga, confirmed the event and dispatched officers to the scene to maintain public order
A group of unidentified individuals, suspected to be members of a cult, brutally murdered a mentally challenged man in Awka, the capital city of Anambra State.
The tragic incident occurred last Sunday at Dike Park, near Zik Avenue in Awka. These suspected cultists entered the area, firing shots at the man, and subsequently, they brutally stabbed and dismembered his body with sharp objects.
The motive for this gruesome act remains unclear, though there are indications that the victim may have been associated with cult-related activities before his mental health deteriorated.
The Anambra State Police spokesperson, DSP Tochukwu Ikenga, confirmed the incident, highlighting that the Central Police Station in Awka promptly dispatched officers to the scene to prevent any further disruption of public order.
He further explained that the Divisional Police Officer (DPO) took immediate action, recovering the victim's body and placing it in a morgue.
"I cannot confirm that the man was mad, but when the family comes for the corpse, we will be able to ascertain the mental health of the deceased," Mr Ikenga said.
He added, "For now, police are liaising with eyewitnesses to ensure that the perpetrators are tracked and arrested."
Over the years, there has been a steep increase in cult-related killings and activities in Awka and its environs.
The Commissioner of Police in the state, CP Aderemi Adeoye, has reiterated his resolve to stamp out cultists and their sponsors in the state.