The NDC Parliamentary Candidate for Amenfi Central Constituency in the Western Region, Hon Joana Gyan-Cudjoe has said that there's no division among party members after the Parliamentary Primaries.
According to her,the Parliamentary Primaries was just an internal election so the focus is to win the general elections hands down and not to create division.
She said, creating division will cause more harm than good to NDC as a political party in election 2024.
"There's no Joana Gyan-Cudjoe fashion and no Kwakye Ackah fashion after the primaries,all we are fighting for is to wrestle power from the corrupt NPP government.
As one political party,we need not to fight each other but stay united and fight for our common goal."Hon Joana Gyan-Cudjoe made this known last Saturday at Manso Amenfi,the Constituency capital when she ended a gargantuan thank you Tour with a birthday party.
The affable politician fed close to three thousand (3000) people to mark the end of her thanksgiving tour for delegates,MPs, party executives, business men and women and floating voters in the constituency.
It was in fulfilment of her promise to delegates prior to the May 13, 2023 Parliamentary Primaries to mark her victory with a gargantuan party.
The occasion was also held to mark her birthday which fell on May 7 but was eclipsed by preparations for the primaries.
All delegates , party executives, business men and women,MPs from the Western Region among others converged at the Manso Amenfi Durbar Grounds for the unprecedented celebration.
Joana Gyan-Cudjoe won the primaries with a massive votes to become the first woman to have won primaries in the constituency.
She hopes to win the parliamentary seat in the general elections.
The PC saw all delegates wining and dining and discussing matters of mutual benefits for the general welfare of the constituents.
Hon. Gyan-Cudjoe also known as Gargantuan lady alias Small Gaddafi was grateful to see renowned artists such as Keche Global music duo who performed live at the Party.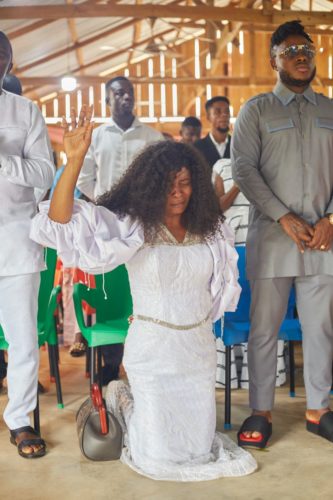 As a philanthropist, humanitarian ambassador, social worker, investor and mother for all, she promised to provide opportunities to help improve the lot of the people in the area when she get the mandate to represent them in parliament.
By her representation in parliament, Hon Joana Gyan Cudjoe intends to change the face of politics in Amenfi central and focus on giving back to society through social welfare programmes, job opportunities and general development and urged the delegates and entire Amenfi Central electorate to give her the mandate at the 2024 Parliamentary elections.